Mayur-2 launch master gives confessional statement
Published: 11:51, 16 July 2020 Update: 15:18, 26 July 2020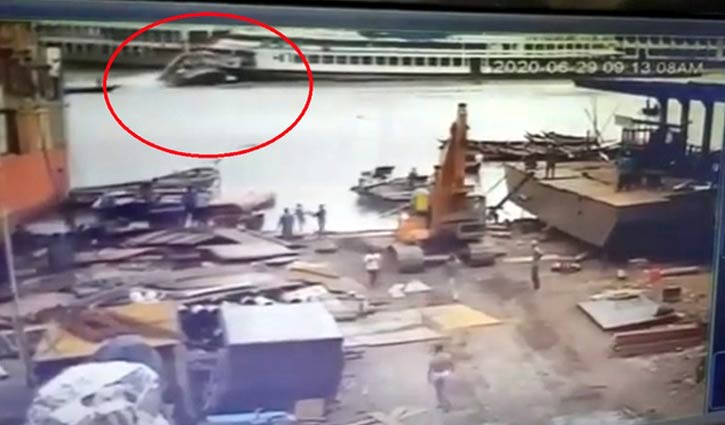 Master of MV Mayur-2 launch Abul Bashar Mollah has given confessional statement to a court in Dhaka in a case filed in connection with the Buriganga launch capsize that occurred on June 29.
Meanwhile, the court placed Sukani Nasir Mridha, one of the accused in the case, on a three-day remand.
Dhaka Senior Judicial Magistrate Mishkat Shukrana recorded deposition of Bashar Mollah and passed the remand order for Nasir Mridha on Thursday (July 16).
Earlier, Sadarghat River Police station Sub-Inspector (SI) Md Shahidul Alam, who is also the investigation officer (IO) of this case, produced the two accused before the court.
The court recorded the deposition of Abul Bashar Mollah as he willingly agreed to give confessional statement and granted a three-day remand to Nasir Mridha after the IO produced him before the court with seven-day remand prayer.
Additional Public Prosecutor Anwarul Kabir Babul confirmed the information.
Members of Rapid Action Battalion (RAB-10) arrested master of MV Mayur-2 launch Abul Bashar Mollah, one of the key accused in the case filed over the Buriganga launch capsize. The elite force arrested him from South Keraniganj area early Monday (July 13).
At least 34 people were killed when a small launch sank in the Buriganga River. The larger Mayur-2 launch in reverse, horrifically crashed into it near Farashganj Ghat in Dhaka on June 29, leaving the nation shocked.
On June 30, a day after the launch capsize, SI Shamsul Alam of Sadarghat River Police station filed a case against seven people with South Keraniganj police station, including the owner of the launch.
The other accused are –Master Abul Bashar Mollah, 65, Jakir Hossain, 39, Engine driver Shipon Hawladar, 45, driver Shakil Hossain, 28, Sukani Nasir Mridha, 40, and Sukani Ridoy, 24.
** Mayur-2 launch master placed on 3-day remand
Dhaka/Mamun/AI
risingbd.com