Number of Bangladeshi tourists may rise in Nepal
Published: 04:01, 17 November 2019 Update: 15:18, 26 July 2020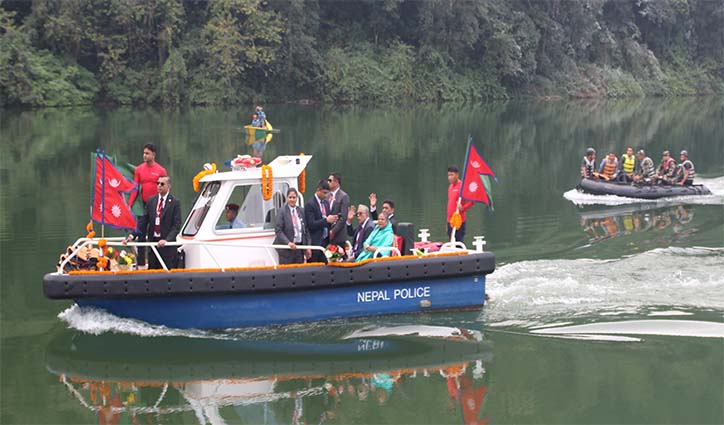 President Abdul Hamid and his spouse visit Pokhara Fewa Lake in Nepal
The number of Bangladeshi visitors is expected to increase in the touristic city Kathmandu with the visit of President of Bangladesh Md Abdul Hamid.
The Bangladesh President, who arrived on a four-day official goodwill visit to Nepal at the invitation of President Bidya Devi Bhandari, went on a sight-seeing tour around Pokhara and also conducted a boat excursion on the Phewa Lake, the main tourist attraction of the city.
He reached Rupakot Resort at Rupakot Rural Municipality and observed the beautiful sight of the Himalayas to the north and the lakes in Pokhara.
The spectacular views along the way from Pokhara up to Rupakot not only very much attracted the visiting dignitary's fancy but it has also increased the possibility of more Bangladeshi tourists and the VVIP guests of other countries arriving in this tourism city.
Based on the experience of surge in Indian tourists in Muktinath following Indian Prime Minister Narendra Modi's pilgrimage visit to this holy site last year, it is believed that President Hamid's visit will also spur more Bangladeshis to visit Nepal and Pokhara in particular.
Bangladesh is one among the member countries of the South Asian Association for Regional Cooperation (SAARC) with big population.
Going by the statistics made available by Nepal Tourism Board (NTB) the number of Bangladeshi visitors, however, is very small.
The tourist arrival data over the last few years shows that 23,440 tourists came from Bangladesh in 2016.
Similarly, 29,060 Bangladeshi tourists visited Pokhara in 2017.
Likewise, 26,355 Bangladeshi tourists visited in 2018 and 19,279 Bangladeshi visitors came for visit until October 2019, Manager of NTB Pokhara office, Surya Thapaliya, said.
He said President Hamid's visit is expected to lead to an increase in tourist arrival from Bangladesh.
President of Pokhara Tourism Council, Chiranjibi Pokharel believed that the Bangladesh President's visit to Pokhara will leave a positive impact in the local tourism market. "Lately visit culture is growing in Bangladesh.
Source: The Himalayan News
Dhaka/Mukul
risingbd.com