Russia vows to prevent Turkey-Syria clashes
Published: 20:15, 15 October 2019 Update: 15:18, 26 July 2020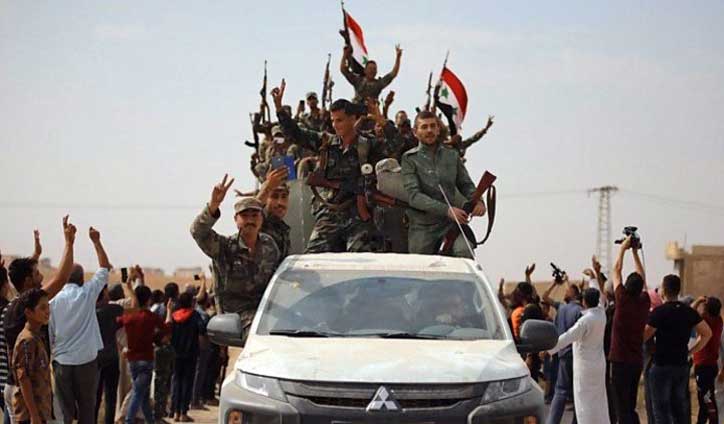 Russia has said it will not allow clashes between Turkish and Syrian forces, as Turkey's military offensive in northern Syria continues.
"This would simply be unacceptable... and therefore we will not allow it, of course," said Moscow's special envoy for Syria, Alexander Lavrentyev.
The withdrawal of US troops from the region, announced last week, gave Turkey a "green light", critics say.
Russia is a key military ally of Syrian leader Bashar al-Assad.
Russia's defence ministry said its forces, which have been deployed in Syria since 2015, were patrolling along the "line of contact" between Syrian and Turkish forces.
Later on Tuesday, the Pentagon said F-15 fighter jets and Apache helicopter gunships had been deployed in a show of force towards Turkish-backed forces who had come close to US ground troops near the Syrian town of Ain Issa.
The Turkish-backed fighters had had violated an agreement not to threaten US troops, a military official said.
During a visit to the United Arab Emirates, Mr Lavrentyev described Turkey's offensive as "unacceptable".
He said that under previous agreements Turkey can only go 5-10km (3-6 miles) into Syria - far less than the 30km "safe zone" Ankara is proposing - and that Turkey has no right to permanently deploy its troops in the country. Syria is in contact with Turkey to avoid a conflict, he said.
Mr Lavrentyev also confirmed that Russia had helped to broker a deal between Kurds and Damascus that saw Kurdish-led forces cede territory to Syrian government troops in return for military support.
The Turkish offensive, which began last week, aims to push the Kurdish-led Syrian Democratic Forces (SDF) from the border region. Turkey considers the biggest militia in the SDF a terrorist organisation.
The Turkish government wants to create a "safe zone" in the area, where it can resettle Syrian refugees currently in Turkey.
Many of them are not Kurds and critics warn this could lead to ethnic cleansing of the local Kurdish population.
Dozens of civilians have been killed in the operation so far and at least 160,000 have fled the area, according to the UN.
Agencies

Dhaka/Nasim
risingbd.com