M Mahfuzur Rahman: Multinational electronics giant Walton is providing special facilities for booking of their elevators at the REHAB (Real Estate and Housing Association of Bangladesh) Winter Fair-2019 being held at the Bangabandhu International Conference Center in the capital.
The fair, which starts on December 24, will run till December 28 this year. Cash discount and chance to visit Thailand have been offered under the 'Double Dhamaka Offer' for the elevator customers and members of REHAB on bookings for Walton elevators.
Abdul Qadir, deputy director of Walton, said the Walton products are being showcased at the 176th and 178th stalls at the fair. Elevators and other products, including switch-sockets, circuit breakers, LED lights and various types of fans are being displayed at the fair in a bid to inform people of the Walton products.
Walton is manufacturing elevators in Bangladesh following the latest European technologies. The skilled engineers are working relentlessly to design, produce and install them. The elevators are being used in all kinds of establishments, including the Walton factory and corporate offices. Walton is now selling the commercial elevators after meeting their internal demands.
Zakibur Rahman Sejan, brand manager of Walton Electric Appliance, said that Walton's electric fan is has become prime attraction to customers. More than 6 lakhs of fans have been sold across the country this year. Along with the fans, products like switches, sockets, circuit breakers, LED lights are also being manufactured at Walton's own giant factory in Gazipur. Only Walton's ceiling fan has a 10-year replacement warranty facility.
Walton's elevator and construction material department official Zenan-ul-Islam, said that they have been receiving good responses from the customers since Walton started the commercial sales of elevators. Walton elevator has special installment facility for up to five years. Besides REHAB, this facility will be available at the upcoming trade fair as well.
He also said that Walton is producing elevators in Bangladesh according to European standards and marketing them at affordable prices.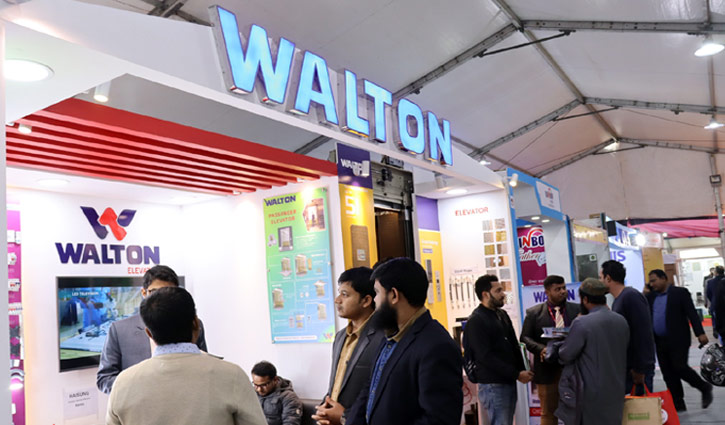 Visitors at the Walton stall at REHAB Winter Fair-2019 in the capital.
There are two types of elevators in the market. Passenger elevator and cargo elevator. Passenger elevators have a capacity ranging from 300 to 3000kg. These elevators have the ability to carry 4 to 40 passengers at a time. On the other hand, the capacity of the cargo elevator ranges from 800 to 4,500kg.
Walton has its own service team and dedicated customer care -16267, 01686690137 for best after-sales service. Walton elevator has free installation facilities. Within a year of buying the elevator, any problem with any parts is fixed completely free of charge. There is also a one-year free maintenance facility as well. The Walton service team immediately reaches the customers in any problems.


Dhaka/M Mahfuzur Rahman/Nasim