Walton gets manufacturing achievement award
Published: 05:09, 18 October 2019 Update: 15:18, 26 July 2020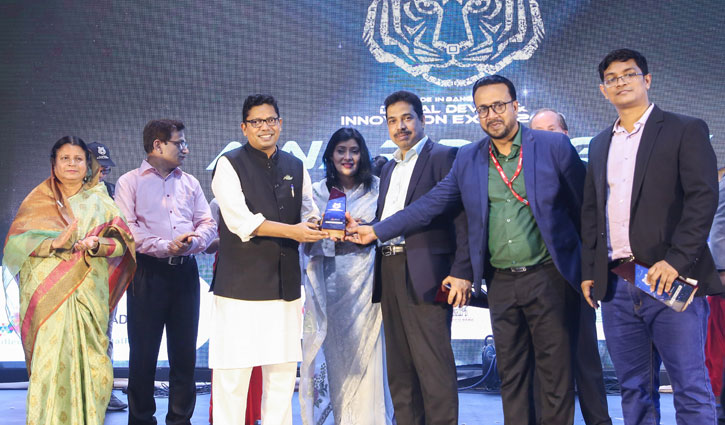 Walton Group's Executive Directors SM Zahid Hasan and Tapash Kumar Mojumder and Operative Directors Tawfiq-Ul-Quader and Syed Md. Roble Islam receive the crest of 'Manufacturing Achievement Award' from State Minister for ICT Division Zunaid Ahmed Palak
The Bangladeshi multinational electronics brand Walton has been honoured with 'Manufacturing Achievement Award' for its outstanding contribution to the 'Digital Bangladesh' establishment through producing various sorts of digital devices.
Walton received the award at the 'Award Night' and the concluding ceremony of a three-day-long 'Digital Device and Innovation Expo 2019' at Bangabandhu International Conference Centre in the capital on Wednesday.
In the 'Award Night,' the local brand also received the 'Best Pavilion Award' for setting up an eye-caching pavilion in the country's mega expo on ICT and digital devices.
State Minister for ICT Division Zunaid Ahmed Palak presided over the function while Commerce Minister Tipu Munshi was the chief guest.
Chairman of the Parliamentary Standing Committee on Posts, Telecommunications and IT Affairs AKM Rahmatullah and Senior Secretary of Information and Communication Technology Division NM Zeaul Alam also attended the function as special guests.
In the event, Walton Group's Executive Directors SM Zahid Hasan and Tapash Kumar Mojumder, Operative Directors Tawfiq-Ul-Quader and Syed Md. Roble Islam received the crests of 'Manufacturing Achievement Award' and 'Best Pavilion Award.'
In 2017, Walton established the country's first-ever full-fledged mobile phone manufacturing unit. And in 2018, the local electronics giant started the domestic production of various sorts of ICT devices like computer, laptop, keyboard etc.
While expressing his reaction, SM Zahid Hasan said that Walton made electronics and ICT devices are now being exported to more than 30 countries of Asia, Middle East, Africa and Europe. The 'Made in Bangladesh' tagged world-class Walton products are getting sound response from the global buyers.
Walton is not only brightening the positive image of Bangladesh in the global arena but also making an outstanding contribution to the country's economic progress through raising export volume, creating employment and reducing import dependency, he noted.
Walton has products' based several research and development centers, where a good number of local and international engineers and experts are doing extensive research to deliver new sorts of products with innovative designs and features.
Dhaka/Palash/Mukul
risingbd.com