Walton registers 193pc growth in AC sales
Published: 05:47, 8 November 2019 Update: 15:18, 26 July 2020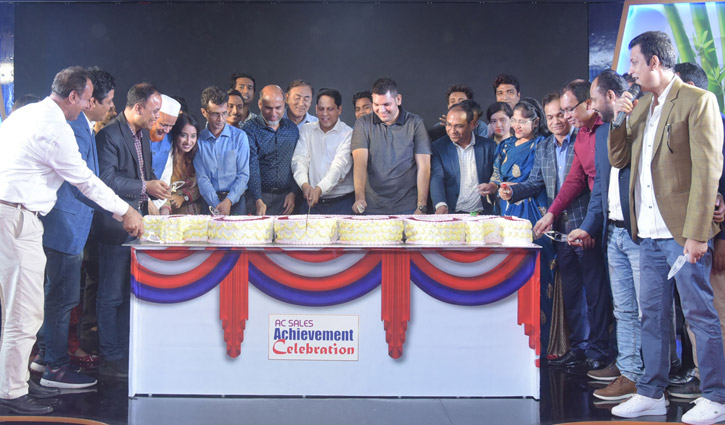 Walton authorities celebrate 193 percent AC sales growth by cutting a giant cake.
Bangladeshi multinational electronics brand Walton registered 193 percent growth in the sales of its air conditioners during the period of January to October this year as against the sales during the corresponding period of 2018. Walton now tops the country's AC market with about 22 percent share.
An 'Achievement Celebration Program' was held at Walton Corporate Office in the capital on Wednesday (November 6) to celebrate the target achievement in AC sales by cutting a giant cake.
A new model of 1-ton smart inverter split AC was also unveiled on the function. Besides, a total of 33 officials and businessmen were awarded during the program for their outstanding contribution to the sales growth.
Walton Hi-Tech Industries Limited Chairman SM Nurul Alam Rezvi, Directors SM Mahbubul Alam and Mahabub Alam Mridul handed over crests and certificates to the officials and businessmen after unveiling the new model of AC.
The function was also attended, among others, by Walton Group Executive Directors Eva Rezwana, Amdadul Haque Sarker, SM Zahid Hasan, Humayun Kabir, Tanvir Rahman, FM Iqbal Bin Anwar Dawn, Mohammad Rayhan, Amin Khan, Dr. Shakhawat Hossen, Additional Operative Director Khondakar Shahriar Murshid, Deputy Operative Director Mofizur Rahman, head of Walton AC Research and Development department Sondip Biswas and AC sales and development chief Zahidul Islam.
A new model of 1-ton smart inverter AC being unveiled by Walton authorities.
Walton AC's chief executive officer (CEO) Tanvir Rahman said that they have a strong R&D (Research and Development) team where skilled and talented engineers are constantly researching on ACs incorporating latest technology and features according to the demand, interest and purchasing ability of customers. As a result, the demand for Walton ACs has rose up tremendously.
Earlier this year, Walton AC had only 10 percent market share. But before the end of the year, Walton tops the AC market with about 22 percent market share. Walton had a target of selling 82 thousand units of ACs in the local market this year which has been achieved with two months remaining. The international standard Walton ACs are being exported to various countries, he added.
Sondip Biswas said, the newly unveiled 1-ton Walton AC has smart control system for which it is controllable using mobile phones. It features Inverter compressor for which it will save up to 60 percent electricity. The Turbomood of the new AC cools the room reducing its temperature quickly. Its Ionizer technology keeps the room dirt and bacteria free. World's recognized environmental-friendly R32 refrigerant is used on this AC. Rust-resistant Golden Fin Color Technology is used in the condenser of this AC which ensures the longevity of the cooling product.
Walton authorities said, they are building customers' database to ensure faster after-sales service through online. For this, they are conducting digital campaign season-5 in which customers have chance of getting 12-year equivalent electricity bill as free. Walton also provides free installation for its AC customers.
Besides those benefits, customers can purchase Walton brand new ACs at 25 percent discount through exchanging any brand's used ACs. In addition, Walton is also offering a 36-month installment facility with a down payment of only Tk 4,900. Walton is also providing 12-month EMI at zero interest, 6-month replacement guarantee and 10-year guarantee for Inverter AC compressors. Every air conditioner of Walton is released in the market after obtaining quality control certification from international standard testing lab NUSDAT-UTS.
Dhaka/Polash/Mukul
risingbd.com