Wari goes under lockdown for 21 days
Published: 05:55, 4 July 2020 Update: 15:18, 26 July 2020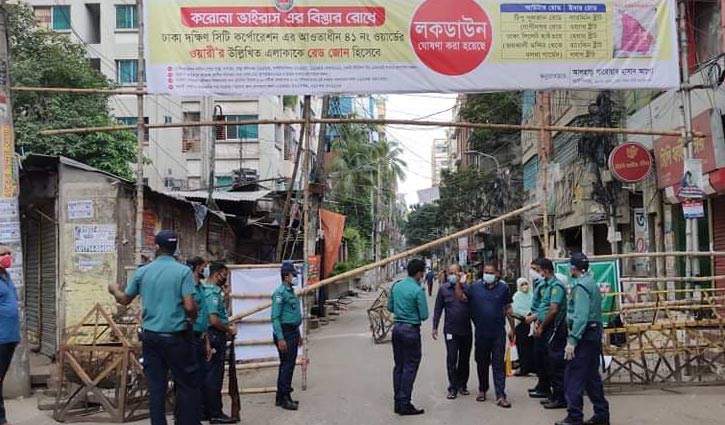 Wari area under ward no 41 of Dhaka South City Corporation (DSCC) has gone under lockdown as 'red zone' for 21 days from early Saturday.
Confirming the matter, DSCC councillor Sarwar Hossain Alo said the lockdown began around 6.00am.
The health directorate has identified Wari's Tipu Sultan Road, Jahangir Road, Dhaka-Sylhet Highway from Baldha Garden to Joy Kali Temple, Lalmini Road, Hare Road, War Road, Rankin Road and Nawab Road as high-risk 'red zones' where the lockdown restrictions are being enforced.
According to DSCC and police sources, all streets have been blocked. Police patrols and surveillance are being conducted on streets to keep the residents at home.
The government has declared general holidays for all government and non-government offices in the area which was announced through loud speakers. Arrangement for supply of essential commodities has been taken.
The sources further said a volunteer team has been formed consisting of members from different local organisations of the lockdown area. They will come forward to assist residents of the area in case of any need. Besides, a protection booth has been set up at Wari Government Primary School. People who have coronavirus-like symptoms can give samples there for test. Apart from these, DSCC and police have set two separate control rooms. Metropolitan Hospital has been prepared for isolation.
Wari is the second area in the capital to go into lockdown after similar restrictions were imposed on East Rajabazar.
DSCC has taken the decision to bring the area under lockdown for containing further spread of the coronavirus in the city.
Dhaka/Noor/Mamun/Mukul
risingbd.com