Walton's new models of fridges lured customers ahead of Qurbani Eid
Published: 23:22, 17 July 2021 Update: 23:28, 17 July 2021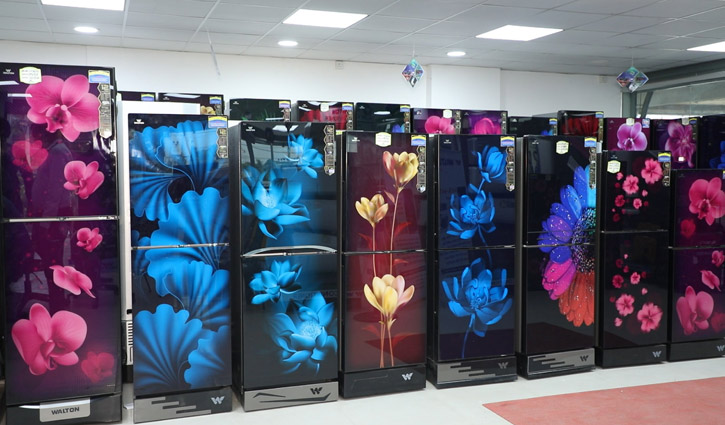 Fridge's sales were gone up across the country ahead of Eid-ul-Azha, which is usually considered as the prime season of fridge sales in Bangladesh.
Like the last couple of years, country's super brand Walton's fridge were selling more ahead of the Qurabi Eid as the local brand's more than 50 new models of fridges with updated designs and features were at the center of customers' attention.
Centering the upcoming Eid-ul-Azha, the Basngladeshi super brand Walton has released 27 new models as well as over 50 models of refrigerators with updated features in the domestic market.
The new and updated models of refrigerators are included: IoT based smart refrigerator, power-saving digital inverter technology and bacteria-resistant super cooling featured refrigerators. Capacity of these new models of Walton refrigerators is between 125 liters to 365 liters.
With these news models, Walton brand's more than 200 models of refrigerators, freezers and beverage coolers are now available in the domestic market.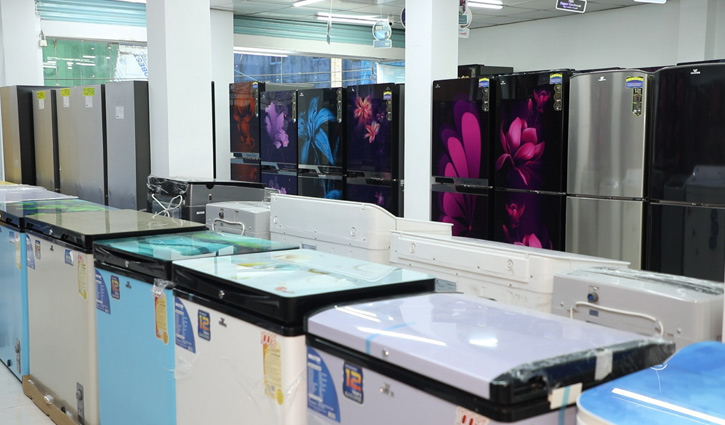 Under its nationwide ongoing 'Digital Campaign Season 11', Walton refrigerator department announced 'Eid Mega Festival' offer.
As per the offer, customers are likely to become a millionaire with the award of Tk 10 lakh cash upon the purchase of Walton fridge. Already, seven customers in different parts of the country have been awarded Tk 10 lakh cash on Walton fridge purchase. In addition, lots of Walton fridge customers got attractive amounts of discounts as per the sure cash discounts given in the 'Eid Mega Festival.'
Meanwhile, Walton is running 'Digital Campaign Season 11' across the country to bring after-sales service under online automation. Walton Fridge is running 'Mega Eid Festival' this season of this campaign on the occasion of Eid-ul-Adha. Under this, if you buy any model of Walton fridge, you can get millionaire or 10 lakh rupees in cash. There are also guaranteed cash vouchers worth crores of rupees. In the meantime, seven buyers have become millionaires by buying Walton refrigerators in different parts of the country. Numerous buyers have received attractive discounts under guaranteed discounts.
In addition to these benefits, Walton fridge has a 12-year guarantee on the compressor with a 1-year replacement. In addition, customers can buy refrigerators or freezers from any nearest Walton Plaza or distributor through online. Walton's employees are delivering refrigerators to the customer's home following proper health safety guidelines issued by the World Health Organization. For online orders, customers are enjoying cash on delivery and free home delivery service. In Walton E-plaza, buyers are offered 5 percent discount and 12 months EMI at zero interest on the purchase of any models of fridge.
Apart from these, Walton initiated fridge exchange offer. Under the exchange offer, customers can buy any models of Walton freezers with attractive discounted prices in exchange of any brand's old active and non-performing fridges.
Walton's Deputy Managing Director Amdadul Haque Saker said, Walton fridge is now dominating the domestic market. Ahead of the Qurbanin Eid, Walton's new and updated featured fridges are selling more.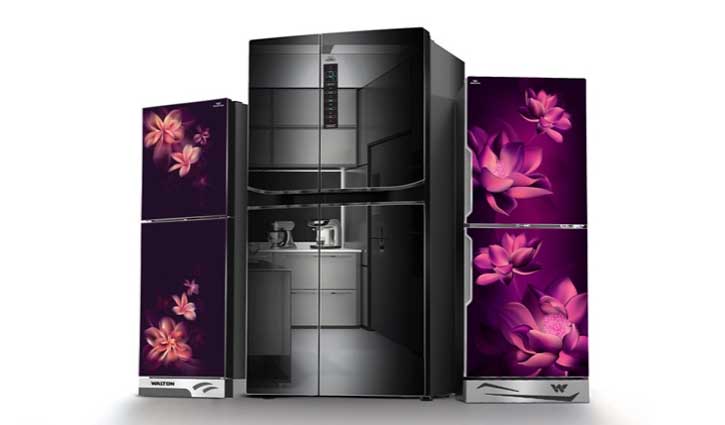 Walton Refrigerator's Chief of Business Anisur Rahman Mallick said that the new models of Walton refrigerators have some unique features like elegant door patterns, stabilizer free operation, bigger freezer capacity, LED light in freezer, user friendly ergonomic and elegant door design, longer enduring cooling system, rat preventive compressor back cover, low noise level, 5-star energy rating, economic model, anti-fungal door gasket, ultra-freshness, super cooling, aesthetic look with glass door profile, Intelligent Control System (ICS), Intelligent Inverter Technology (IIT), IoT, smart diagnosis, IGT ionizer, electronics control etc. IoT based smart technology has also been added to the Walton fridge.
Walton has more than two hundred models of frost, non-frost and deep freezer in Eid Bazaar. Prices of these Walton refrigerators are between Tk 10,990 and Tk 69,900. Along with the cash, customers can also buy the Walton fridge at installment facility.
Every refrigerator of Walton is being released in the market after the quality has been confirmed by the international quality testing company NUSDAT-Universal Testing Lab. Walton refrigerators have a five star energy efficiency rating of BSTI. Walton has obtained ISO, OHSAS, EMC, CB, ROHS, SASO, ESMA, ECHA, G-Mark, E-Mark etc. certificates in refrigerator manufacturing and export. International standard Walton refrigerators are being exported to different countries of the world.
The ISO Certified Walton Service Management System is delivering the fastest and best after sales service to the customers. Under this, Walton has 76 service centers all over the country. More than two and a half thousand service experts are engaged in delivering post sales services.
Milton Ahmed/Nasim