Walton Plaza's Challengers' Summit being held in Gazipur
News Desk || risingbd.com
Published: 13:47, 26 January 2023 Update: 15:27, 26 January 2023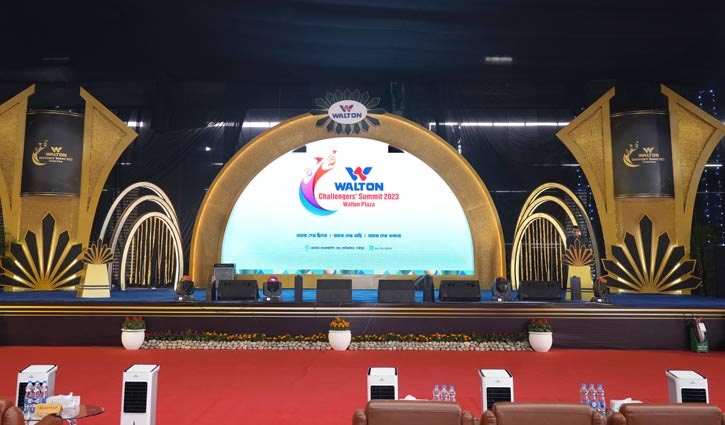 Beautiful stage at the Walton Plaza's Challengers' Summit-2023
A day-long 'Challengers' Summit-2023' of Walton Plaza is being held at the headquarters of Walton Hi-Tech Industries PLC at Chandra of Gazipur with over 1,500 sales executives participating from across the country.
In the conference, the Walton authorities will provide necessary directives to the sales executives focusing on the current global trends of electronics and technology business.
Walton Plaza's sales executives gathered at the dynamic and well-decorated large conference room from different parts of the country on Thursday morning (Jan 26, 2023). Walton headquarters gets festive mood on the occasion of the conference. The venue has been decorated with various colorful banners and festoons along with a beautiful large stage.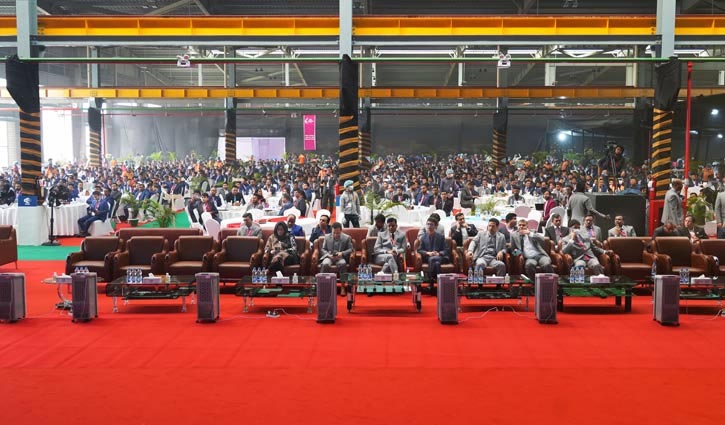 A portion of the participants at the Walton Plaza's Challengers' Summit-2023
With the slogan 'We were the best, We are the best and We will be the best', the conference is being presided over by SM Mahbubul Alam, managing partner of Walton Plaza. Chairman of Walton Hi-Tech Industries PLC. SM Nurul Alam Rezvi, Vice-Chairman SM Shamsul Alam have joined the program as chief guests while Director SM Monjurul Alam, Zakia Sultana and Nishat Tasnim Shuchi, Managing Director and Chief Executive Officer (CEO) of Walton Hi-Tech Industries PLC. Golam Murshed, and Walton Plaza's CEO Mohammad Rayhan are also present as special guests.
The conference is also being attended by Walton Digi-Tech Limited's Additional Managing Director Engineer Md Liakat Ali, Walton Hi-Tech's Deputy Managing Directors Mohammad Alamgir Alam Sarker, Nazrul Islam Sarker, Eva Rezwana and Md. Humayun Kabir, RB Group's CEO S.M. Shoyeb Hossain Nobel, Walton's Senior Executive Directors Tapash Kumer Mojumder, Col. S M Shahadat Alam (Retd), Mohammad Yousuf Ali, Dr. Md. Shakhawat Hossen, Mohammad Firoj Alam, Md. Easir Al- Imran, S. M. Zahid Hasan, FM Iqbal Bin Anwar, Ariful Ambia and Tofail Ahmed, Executive Directors Azizul Hakim, Zeenat Hakim, Mofizur Rahaman Jakir and Shahjada Salim and other high-ups of the company.
Some of the sales executives will be awarded for their outstanding contribution to sales in the later part of the conference and the participants will also enjoy a cultural event at the end.
Mahfuz/Mukul