Digital Campaign: Another buyer of Walton fridge gets 101 free products
Staff Reporter || risingbd.com
Published: 15:53, 14 March 2023 Update: 15:54, 14 March 2023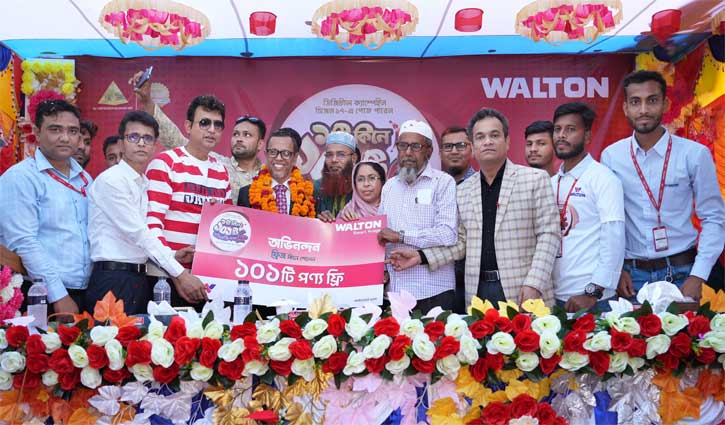 Nazrul Islam from Bagerhat receives 101 free products which he got buying Walton fridge.
Md. Nazrul Islam, a businessman from Morrelganj municipality of Bagerhat, has got a total of 101 products for free after purchasing a Walton brand refrigerator. Walton is providing the facilities to its customers under the ongoing 'Digital Campaign Season-17.' Earlier, Jashim Uddin from Ramu Upazila of Cox's Bazar also got 101 free products buying Walton fridge.
Walton is conducting the 'Digital Campaign' across the country to accelerate the initiative of building customer database for delivering online-based swift and best after-sales service. Various benefits are given to customers to ensure their spontaneous participation in this process. Under the campaign's Season-17, customers might get 101 houseful free products or cash vouchers of up to Tk. 1 lakh or sure gifts.
On Monday (March 13, 2023), Walton Plaza's Chief Executive Officer (CEO) Mohammad Rayhan, Walton Hi-Tech Industries' Deputy Managing Director (DMD) Humayun Kabir and Senior Executive Director popular actor Amin Khan officially handed over 101 free products to Nazrul Islam at a function held at Morrelganj Walton Plaza.
Morrelganj Upazila Chairman Shah-E-Alam Bachchu and Vice-Chairman Mozammel Haque Mozam, female Vice-Chairman Fahima Khanam, local police station OC Saidur Rahman and other Walton high-ups were also present.
Buyer Nazrul Islam is the director of Bashundhara Diagnostic Complex in the area. He is also the president of Sharankhola Diagnostic and Clinic Owners Association. In a bid to provide a gift to his in-law's house, he purchased a 226-liter refrigerator from Morrelganj Walton Plaza on March 6. He then received an SMS on his mobile phone from Walton with the notification of getting 101 free products upon registration of the fridge under digital campaign.
The 101 free products included Walton fridge, AC, smart TV, washing machine, air cooler, microwave and electric oven, ceiling, pedestal, tornado and rechargeable fans and rice cooker. Nazrul carried those products to his home loaded in a truck and his house is now full with Walton products.
Thanking Walton, Nazrul Islam said that he has been using Walton products at home and in his office. He said: We are fully satisfied with Walton products because for their international standard and services with various facilities. I like Walton's digital campaign concept and it is unbelievable that customers are getting 101 products with purchasing only one product. My respect and trust on Walton have been increased as they kept their promises they gave to customers.
Walton Plaza's CEO Mohammad Rayhan says, Walton always provides best products and services to customers and conducting many events and countrywide digital campaign is one of them. Usage of electronics products is being increased through those of the campaigns with strengthening national economy.
Speaking on the occasion, Upazila Chairman Shah-E-Alam Bachchu said that Walton has gained the trust of customers. Walton is playing vital roles in developing country by producing and marketing best quality products.
DMD Humayun Kabir said that Walton fridge is leading the country's refrigerator market in terms of sales and customer demand. Walton is firm to provide the best benefits to customers along with offering international standard products and services.
Tutul/Mahfuz/Sujan