'Walton Day' celebrated across the country
News Desk || risingbd.com
Published: 20:33, 20 March 2023 Update: 21:00, 20 March 2023
Walton Hi-Tech Industries PLC.`s Director S M Mahbubul Alam cutting a giant cake on the occasion of `Walton Day` celebration.
'Walton Day', the day of the founding of Bangladeshi global electronics and tech giant Walton, was celebrated across the country on March 20.
On this occasion, various programs were held at Walton headquarters, corporate office, Walton Mirpur Complex, Tangail Gosai Joair and all the sales and service outlets across the country.
The programs included hoisting of the national flag and Walton flag, balloon flying, cake cutting, joyous rally and procession and cultural programs etc.
Walton, a pioneer in electrical, electronics, ICT, home and kitchen appliances and industrial solutions products manufacturing industry of Bangladesh, was established on March 20, 1999. However, the journey of Walton started in 1977 with the sole efforts of late SM Nazrul Islam, founding chairman of Walton and a legendary industrialist of Tangail.
Today, Walton has gone beyond the borders by producing state-of-the-art appliances. Every year Walton family has been celebrating the anniversary day as 'Walton Day'. On March 20, the International Day of Happiness is celebrated worldwide and the Walton family is delighted to celebrate the anniversary on such a day.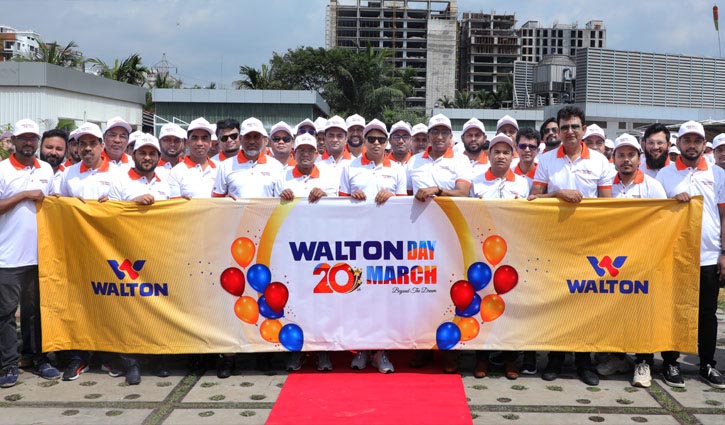 'Walton Day' rally at the company's corporate office in the capital.
On Monday (March 20, 2023) morning Walton Hi-Tech Industries PLC.'s Director S M Mahbubul Alam hoisted the national flag and Walton flag at Walton Corporate Office. Then, he inaugurated the nationwide celebration festival by flying balloons with 'Walton Day' logo. After that, he cut a 20 feet long and 4 feet wide giant cake with the presence of the company's senior officials. Meanwhile, Walton Hi-Tech Industries' Managing Director and CEO Golam Murshed greeted all from outside the country through online.
On the occasion of 'Walton Day', rallies and processions were simultaneously brought out across the country. More than 20 thousand sales and service outlets celebrated the day with customers and well-wishers through various day-long events.
Along with announcing the inauguration of 'Walton Day' celebration, company's Director S M Mahbubul Alam greeted and congratulated all the members of the Walton family, buyers, local and foreign distributors and well-wishers.
He said, Walton has not come to this position in a day. Walton has reached this height due to the sincere efforts and hard work from all of us. Now, Walton is playing a significant role in the country's economic development. Upholding this success is also a big challenge for us. We are working together to meet that challenge. Currently, the world economic situation is turbulent. Bangladesh is not out of it. We have to face this situation with great courage and intelligence. I believe, Walton's smart team will move forward surpassing these hurdles. Our business operations are proceeding normally despite adverse conditions. We always honor trust and confidence that the countrymen are showing to Walton.
Walton Hi-Tech's Managing Director and CEO Golam Murshed said, "Walton Day is a day of great joy for us. Walton was established in the fiery month of independence. Congratulations and best wishes to the members of the board of directors, stakeholders, customers-well-wishers and members of the Walton family for bringing the company to where it is today".
The 'Walton Day' celebration program at the corporate office was attended by, among others, Walton Plaza CEO Mohammad Rayhan, Walton Digi-Tech Industries Ltd. Additional Managing Director Engineer Liakat Ali, Walton Hi-Tech Industries Adviser Major General (Retd.) Ible Fazal Shayekhuzzaman Deputy Managing Directors Nazrul Islam Sarker, Amdadul Hoque Sarker and Md. Humayun Kabir, Senior Executive Directors Tanvir Rahman, Amin Khan, Firoj Alam, SM Zahid Hasan, Chief Marketing Officer Didarul Alam Khan, Executive Directors Azizul Hakim and Mohammad Shahjada Salim.
The Walton Day was also celebrated at the headquarters with the presence of Deputy Managing Director Alamgir Alam Sarker, Senior Executive Directors Tapash Kumer Mojumder, Col. S M Shahadat Alam (Retd), Easir Al Imran, Shahinoor Sultana and other senior officials.
Meanwhile, Senior Executive Director FM Iqbal-bin Anwar, Executive Director Md. Mojahidul Islam and officials of Mirpur Service Center, Marketing and Communications Department and Walton Plaza, among others, were present at 'Walton Day' rally held at Mirpur.

Augustin Sujan/Mukul