Walton Plaza opens 3 new branches in 3 districts
Desk Report || risingbd.com
Published: 15:48, 24 May 2023 Update: 15:49, 24 May 2023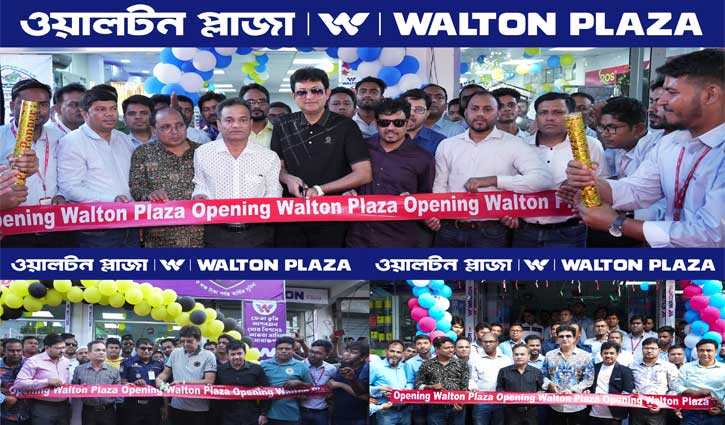 Walton's DMD Humayun Kabir and Senior Executive Director popular actor Amin Khan among others inaugurate 3 new branches of Walton Plaza in 3 districts.
Country's leading electric, electrical and electronics products' sales and service provider Walton Plaza has opened three new showrooms in three districts. The newly launched 3 Walton Plaza are situated at Shibchar of Madaripur, Darshana of Chuadanga and Poradaha of Kushtia.
Walton's global standard products including frost and non-frost fridge, freezer, LED and smart TV, air conditioner, washing machine, generator, computer, smartphone, fans along with other products are being showcased and sold here.
Customers can buy products in installment facilities at zero interest for up to six months along with other benefits including the facilities being given under Walton Plaza's hire purchase and family protection policy.
Walton's Deputy Managing Director (DMD) Humayun Kabir and Senior Executive Director popular actor Amin Khan have recently inaugurated the new branches on three consecutive days.
The programs were also attended, among others, by Deputy Executive Director Wahiduzzaman Tanvir and noted Bangladeshi comedian Abu Hena Rony. A total of 30 people has also been awarded with 10 people each in the three events.
Shibchar police station OC Anwar Hossain and Darshana police station OC Ferdous Wahid were also present on the occasion of the inauguration ceremonies of Walton Plaza held respectively in Shibchar's Pacchar and Darshana of Chuadanga while Kushtia Press Club President Rashedul Islam Biplob, Walton Plaza's chief divisional officer Kazi Arif Hossain, divisional sales manager Obaidur Rahman Talukdar, regional sales manager SM Deen Islam and regional credit manager Azizur Rahman were present at the opening of the Walton Plaza at Poradaha of Kushtia.
DMD Humayun Kabir said that Walton Plaza provides various benefits to customers over the year. Walton Plaza is the only organization in the world that has the 'hire purchase and family protection policy'. Under the policy, in case of the death of the buyer during the installment period, Walton Plaza is providing financial assistance, ranging from Tk 50,000 to Tk 300,000, to the respective nominee. In addition, financial assistances from Tk 25,000 to Tk 1,50,000 is being given on the death of a family member of the respective buyers. Scores of hire customers have already received these benefits across the country. Beside this, Walton Plaza's hire purchase protection card holders are also getting the best services and special benefits including discounts at various organizations such as hospital, diagnostic center, insurance, restaurant etc.
Meanwhile Amin Khan said: Walton Plaza is the leading sales platform of electronic products in Bangladesh. It is widening its activities across the country with opening up new showrooms to supply the locally made electronics products to every house. Walton Plaza is creating jobs through these activities with taking necessary products and services to peoples' door. Walton Plaza is continuing its efforts to open at least 100 more new Plazas in the country.
Mahfuz/Sujan/Nasim