Rohingyas describe genocide to assistant secretary of state
News Desk || risingbd.com
Published: 22:09, 5 December 2022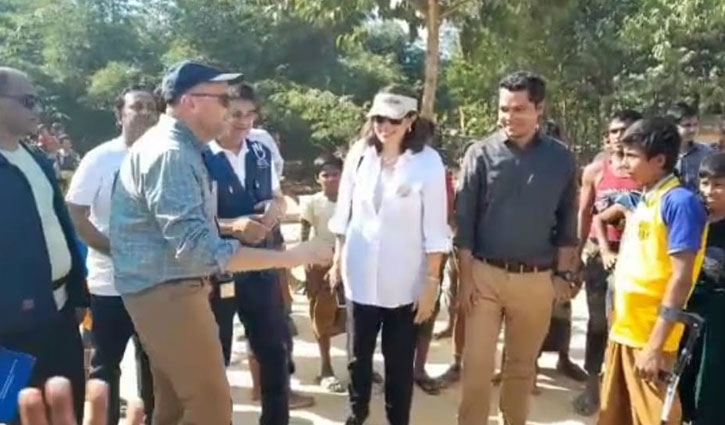 Julieta Valls Noyes, assistant Secretary of Bureau of Population, refugees and Migration of the US Department of State, visited Rohingya camp at Ukhiya in Cox's Bazar.
She went to the Rohingya camp in Ukhia Kutupalong by road from Cox's Bazar twon on Monday (December 5) morning.
Earlier on Sunday (December 4) afternoon, she arrived in Cox's Bazar by air from Dhaka and spent the night at a five-star hotel next to the beach.
The US Assistant Secretary of State's convoy arrived in Kutupalong Rohingya camp around 9:30 am. First she visited the service center of Camp-9. After visiting Camp-8W, Julieta Valls spoke with 10 to 15 Rohingya refugees, men and women.
Rohingya leader Kamal Hossain said, "The US Assistant Secretary of State asked the Rohingyas to know what is the environment in the refugee camp? How is the security system? Are the Rohingyas willing to go back to Myanmar? How is the environment in Myanmar etc. In response, some Rohingyas described the terrible picture of brutal torture, arson, genocide and oppression conducted in Rakhine state in Myanmar by the contry's army after August 25, 2017. They expressed their willing to return to Rakhine. But before returning, the Rohingya must be recognized as citizens by the Myanmar government and resettled in the places from where they were displaced. In this case, the Rohingyas have sought the intervention of the US government.
The Rohingya leaders said the US Assistant Secretary of State told them that the United States will play an important role in the process of repatriation of the Rohingyas with dignity. The country will stand by the Rohingyas in humanitarian services.
The US Assistant Secretary of State was accompanied by Khalid Hossain, Assistant Commissioner of the Office of the Commissioner for Refugees, Relief and Repatriation. He said that from morning to afternoon, the US Assistant Secretary of State visited various development projects, relief and medical service centers of the refugee camp. She talked to Rohingya men and women about various issues.
Khalid Hossain said that he does not know what happened there. He reached Cox's Bazar by road in the afternoon and returned to Dhaka by air.
Tarekur/AKA