Bangabandhu is our inspiration: IU VC
IU Correspondent || risingbd.com
Published: 18:46, 15 August 2022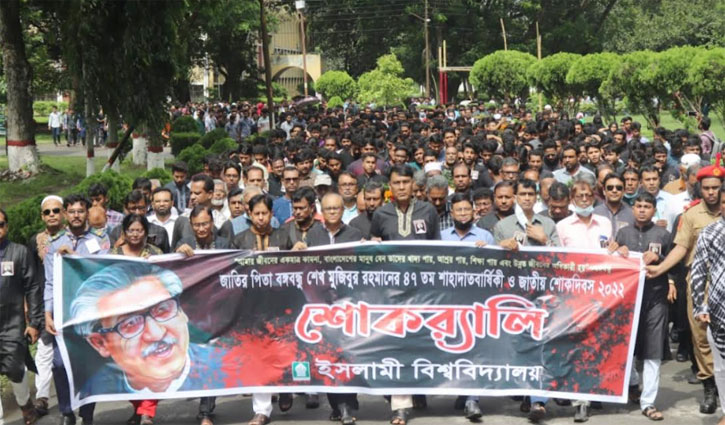 Islamic University (IU) vice-chancellor Professor Shaikh Abdus Salam said Father of the Nation Bangabandhu Sheikh Mujibur Rahman is our inspiration and the ideal of the Bengali nation.
'Bangabandhu worked for development in every sector of the country during his regime. The killers took Bangabandhu from our hearts and set the country back 47 years. So, we should remember Bangabandhu and enhance strength and courage in ourselves' he said.
VC said these at a discussion meeting after paying tributes to Bangabandhu by placing wreaths at the university's Mrittunjoyee Mujib mural on Monday around 11:00 am.
Earlier, the IU vice-chancellor hoisted the national flag at half-mast position while IU pro-vice-chancellor Professor M Mahbubur Rahman hoisted the black flag in front of the university's administration building at around 09:30 am.
Later a rally was brought out from the administrative building, led by the university vice-chancellor. The rally ended in front of the university's Mrittunjoyee Mujib mural after parading the main roads of the campus. Then the university authorities, IU Shapla Forum, Bangabandhu Parishad, different departments and Halls, IU BCL unit, teachers, officers, staff, and student associations placed floral wreaths at the Mrittunjoyee Mujib mural to pay tribute to Bangabandhu.
Among others, IU treasurer Professor M Alamgir Hossain Bhuiya, acting registrar HM Ali Hasan, and proctor Professor Jahangir Hossain were present on the occasion.
Mutasim Billah Riyad/Nasim