Educo observes 'Int'l Day of Education 2023'
Desk Report || risingbd.com
Published: 16:08, 24 January 2023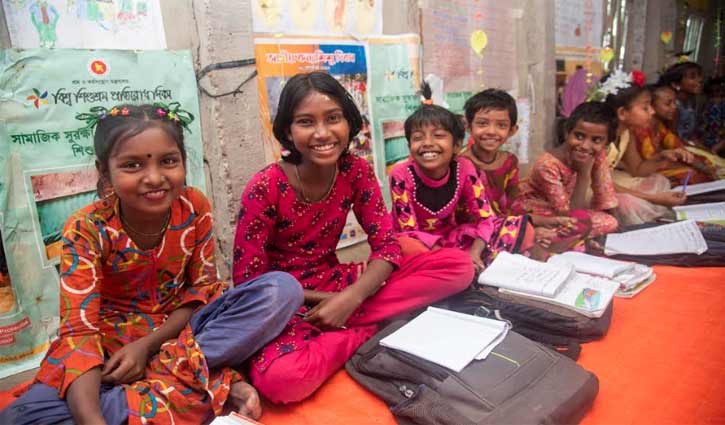 To mark the International Day of Education, the NGO Educo condemns the lack of funding for the education of children and adolescents in humanitarian emergency contexts. This year's Day's theme is "to invest in people, prioritize education". Around the world, there are more and more humanitarian emergencies, which are becoming more complex and are lasting longer. These include wars and climate crisis disasters, among others. In situations like these, children's right to education is not guaranteed," says Pilar Orenes, the Educo Executive Director.
Currently, worldwide, 3% of humanitarian funds are allocated to education in emergency contexts. However, Educo estimates that the percentage should be 10%, as demanded by the Global Campaign for Education, which the NGO is a member of and coordinates actions for in Spain. "In humanitarian emergency contexts, education tends to be side-lined. Obviously, in the first instance, the most urgent thing is to ensure that children are fed and protected. However, education is also urgent. If they do not return to school as soon as possible, the risk that they will drop out of school is very high, as well as the risk of child labour and early marriages. It is essential for their future, but also for their present. Going to school is a way to return to the routines that help them cope with day-to-day life in a crisis, to meet other children, to interact with them and to do so in a protected space," says Educo's Executive Director.
Donor countries have increased their humanitarian spending in the education sector over the last ten years. In 2013, contributions to education accounted for 1.9% of total spending and in 2022 it accounted for 2.9%. To be specific, spending has risen from $163 million to $721 million, more than four times as much, according to the Financial Track System at the UN Office for the Coordination of Humanitarian Affairs (OCHA). However, this economic increase is not proportional to the growing needs. As crises have grown in number, complexity and duration, the educational needs in these settings have increased sixfold in the last decade, yet the response of humanitarian actors has not been up to the task. Underfunding has worsened in the last five years, with only 28.9% of needs covered in 2022. This means that, in the last five years, 40% of children and adolescents in emergency contexts who live in emergency contexts have been unable to continue studying.
In the light of this situation, Educo demands that budget commitments to education in emergency contexts be increased to 10%. The NGO also calls for recognition of the need to prioritise education in emergencies and therefore the funding allocated to it, for long-term strategies that address the systemic causes of crises to reduce their impact and promote peace, and for gender issues to be at the forefront. "Education is a key tool for the next generations to be better prepared to rebuild their countries in a peaceful and sustainable way. It is a fundamental building block in the fight against poverty and the reduction of the gender gap. Investment in education in contexts of war, forgotten conflicts or environments devastated by drought or earthquakes cannot be limited to ensuring that classes are resumed, and children and adolescents receive training, but must also include accelerated education programmes for students who have missed part of the school year, mental health care and psychosocial support for children and education staff, as well as ensuring school meals, water, and sanitation facilities. All this with a gender perspective that ensures special attention to girls and women, a group that is always most affected," says Abdul Hamid, Country Director of Educo Bangladesh.
For more than 30 years, Educo has been carrying out education projects in Europe, America, Africa, and Asia. Many of its programmes are currently being implemented in emergency contexts, such as in the Sahel region, in the Rohingya refugee camps in Bangladesh and in the war in Ukraine. The aim of the organisation is to ensure that the children involved in these activities can continue to access equitable, quality education in the context of the crisis they live in.
Karim (pseudonym) was 10 years old when he arrived at the Cox's Bazar camp for Rohingya refugees in Bangladesh. "Soldiers came into our village. They tortured young men and adults and killed them. A night, at dinnertime, they came attacked us. My family and I left everything behind and just ran". At the age of 15, he receives training in the camp in both education and protection. "Before coming to Bangladesh, the days were no better. As children we couldn't go outside to go to school and play, we were always afraid. Now I go to the learning centre, play with my friends and my little brother, help my mother with the housework and learn". Faced with enormous humanitarian needs inside and outside the country, OCHA estimated funding of $91 million by 2022 to respond to 1.4 million children and adolescents. By the end of the year, only 9% of the appeal had been met. If we consider that 4.5 million children have educational needs due to this crisis, the eight million dollars spent is a drop in the ocean.
For Educo, the testimonies from children like Karim show the reality of children living in emergency contexts and how their rights are violated. This is why the Educo is once again advocating for the need to invest in the right to education, which is the key to healing the social inequalities that arise because of all humanitarian crises.
Hasan/Nasim