Mahbubul A Khalid`s songs pay tribute to Krishna on Janmashtami
Augustin Sujan || risingbd.com
Published: 11:15, 11 August 2020 Update: 11:19, 11 August 2020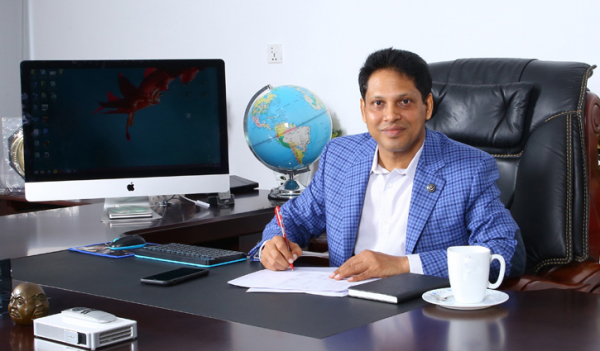 Janmashtami is being celebrated today. Also called as Shri Krishna Janmashtami, it is a festival which is celebrated to mark the birth of Hindu deity Lord Krishna.
Lord Krishna is believed to be the eighth incarnation (avatar) of Lord Vishnu. Devotees observe fast on this day while many others indulge in the festivities by organising cultural programmes and puja rituals at home.
Noted Bangladeshi poet, lyricist and composer Mahbubul A Khalid, who is known for his music on different issues like international days or observance, social awareness, humanity etc. has penned two exceptional songs to pay homage to Lord Krishna on his birthday.
The title of one of the songs is 'Krishna' while the other is 'Ore Amar Mon' (Oh My Mind). Popular late composer Ahmed Imtiaz Bulbul composed the music of the song Krishna while the lyricist himself tuned the music to the other song 'Ore Amar Mon'. Another late legendary musician Subir Nandi rendered his voice to the song Krishna while young singer Nuri Jannat sang the other song.
Both songs have been published on lyricist's musical website www.khalidsangeet.com. A music video of the song 'Krishna' was also released on YouTube's Khalid Sangeet channel in 2014.
Mentionable, Mahbubul A Khalid pens songs on various issues including indigenous people, refugees, and various social and religious festivals like Eid, Quarbani, Christmas, Durgapurja, Buddha, English New Year, Bengali New Year, birthday etc. His songs make people aware of smoking, eve teasing, autism, AIDS, adulterated foods etc. His songs deals with the themes of nature, patriotism, perception, philosophy, religions, humanity, romanticism, spiritual love, tragedy, public awareness, amity, sports etc.
He recently wrote a song to create awareness on Coronavirus. He also composed music of the song which got huge popularity. Titled as Corona Ke Voy Koro Na (Don't get panicked of Coronavirus), the song has also released on YouTube and khalidsangeet.com. It is widely aired on different television channels.
'Krishna' YouTube link:
Dhaka/Augustin Sujan/Mukul