Fakir Lalon Shah remembered in Mahbubul Khalid's song
News Desk || risingbd.com
Published: 10:42, 17 October 2021 Update: 10:46, 17 October 2021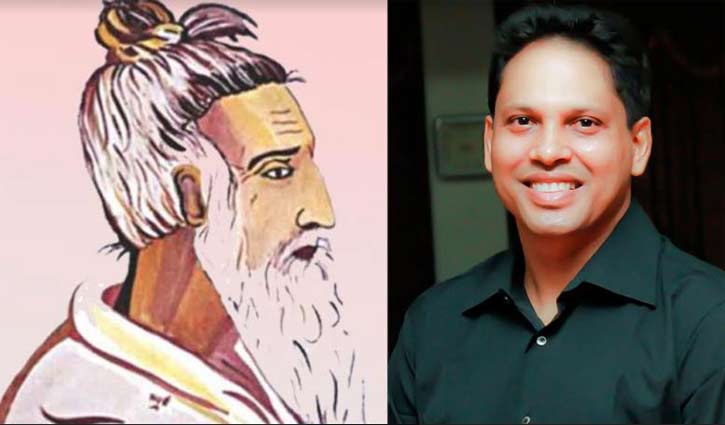 Today (October 17) is the 131st death anniversary of Baul legend Fakir Lalon Shah. The Bengali philosopher, author, Baul saint, mystic, songwriter, social reformer and thinker, breathed his last on 1 Kartik 1297 (17 October 1890) at Chheunriya at the age of 116.
Lalon was born on 1181 BS (1774 AD) at village Harishpur in Jhenaidah district, variantly in a Kayastha family of village Bhadra in Kumarkhali of kushtia district. According to the experts and true bearers of Lalon's spirit, Lalon composed about 2,000 verses. However, many rural Bauls claim that Lalon composed over 10,000 songs.
Though Lalon had no institutional education, he acquired deep knowledge on the religious doctrines of the Hindus and Muslims, the manifestation of which is found in the songs composed by him. In his songs, Lalon envisioned a society where people of all religions and beliefs would stay in harmony. His songs are rich in mystic trend of thought and in artistic skill.
Every year on the occasion of dolyatra (March-April) and on the death anniversary of Lalon Shah, his disciples and devotees assemble at his mazar (Monastery) premises at Chheunriya in Kushtia, and pay homage to the departed guru through entertainment of the saints and presentation of songs for three days.
Regarded as an icon of Bengali culture, Lalon inspired and influenced many poets, social and religious thinkers including Rabindranath Tagore, Kazi Nazrul Islam, and Allen Ginsberg although he "rejected all distinctions of caste and creed".
Meanwhile, prominent poet, lyricist and composer Mahbubul Khalid has penned a song that pays rich tribute to Baul legend Fakir Lalon Shah and remembers him as a great minded person. Legendary late composer Ahmed Imtiaz Bulbul tuned the song titled 'Lalon Tumi Mohamoti' (Lalon you, the Great-Minded) while young singer Priyanka Bishwas has rendered her voice.
A music video of the song has been released on YouTube's 'Khalid Sangeet' channel. Besides, the song is also available on www.khalidsangeet.com, a website that contains the songs and poems of Mahbubul Khalid.
Dhaka/Augustin Sujan/AI