Bobby debuts on OTT for first time
News Desk || risingbd.com
Published: 22:01, 18 April 2022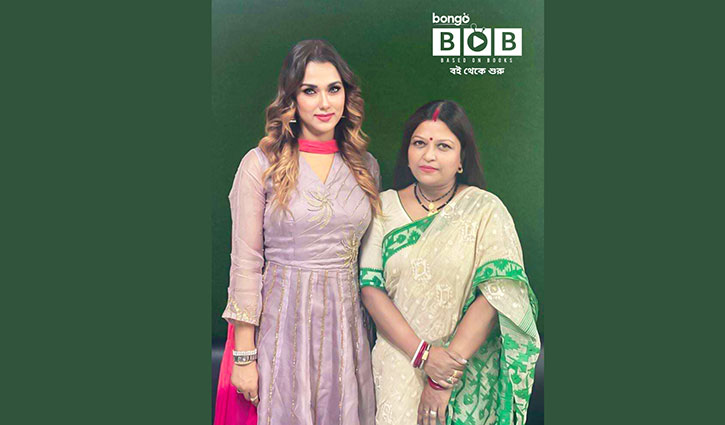 Actress Eamin Haque Bobby's OTT debut will be Bongo BOB's screen adaptation of renowned author Imdadul Haq Milon's acclaimed work, 'Suravi.'
It's been a long time since her fans saw actress Eamin Haque Bobby's magic on the big screen. But unfortunately, Bobby did not accept any shooting offers for the last two years due to Corona. As a result, she was seen shooting only one commercial during the pandemic. But now, the actress returns with great joy to give her OTT debut on bKash presents Bongo Bob Season 2, telefiction "Suravi." for Bangladesh's first and foremost streaming platform, Bongo. This year's Bongo Bob Season 2's title is sponsored by bKash and co-sponsored by Newzealand Dairy Bangladesh Ltd.
For Bongo's telefiction project "Suravi," which is part of the Bongo Bob Season 2, Bobby will be seen in the leading role along with legendary tv actress Suborna Mustafa. Shampa Reza and Dolly Johur also play essential roles. The story is based on the supernatural genre & directed by Chayanika Chowdhury.
The story is based on the incredible similarities between the two young women, Suravi and Rumpa. When Suravi leaves this world in a tragic accident, Rumpa can still feel her presence. What does Suravi want from Rumpa? And why is Rumpa mistakenly called Suravi by her surroundings? If you like Bobby and the supernatural, don't miss this telefiction on Eid.
Imdadul Haque Milon himself wrote the screenplay of 'Suravi' telefiction. So finally, after 8 long years, he worked with a screenplay again. He is very excited about Bongo Bob Season 2 and expressed his conviction that he will be writing regular screenplays, and the journey starts from Bongo Bob Season 2 telefiction 'Suravi.'
Chayanika Chowdhury, the famous producer and director of "Bishwoshundori," has commented that "Suravi" is a heart-touching telefiction. She said, "I can't express how happy I am to have the opportunity to work as one of the selected directors in Bongo Bob Season 2. My whole life has been spent in the intoxication and love of stories and novels. Since birth, I have been inspired by the books I read. Over time, I have also done a lot of literary work. For those of us who grew up reading fiction novels of different genres, working on a project like 'Suravi' under the 'Bongo Bob' umbrella is a dream. This is my absolute dream project, so I express my immense gratitude to Bongo and its team. Bobby comes to her first debut in OTT, holding my hand. I hope we will create outstanding telefiction that the audience will appreciate."
Mr. Mushfiqur Rahman Manzu, Chief Content Officer, Bongo, said, "We are opening new entertainment horizons for viewers on the OTT platform. In bKash presents Bongo Bob Season 2, viewers will be able to see their favorite star on the big screen and the performances of the legendary artists on the small screen in the same story on the same platform. It is the first time we will see Eamin Haque Bobby as the central character of Suravi's story. Besides Bobby & Chayanika, I feel very proud to have the legendary actresses Suborna Mustafa and Shampa Raza in our dream project. I also want to share that in this telefiction, all-important lead roles are presented by women. I hope this year's BKash presents Bongo Bob Season 2 will give a new dimension, a new identity to the viewers' expectations."
'Suravi' is currently in the production and shooting phase. So stay tuned with Bongo, look out for Bobby's first bytes, and enjoy the full telefiction and the other Bob productions this upcoming Eid on Bongo.
Dhaka/NH/AKA