Barcelona hit by fresh clashes amid general strike
Published: 20:27, 18 October 2019 Update: 15:18, 26 July 2020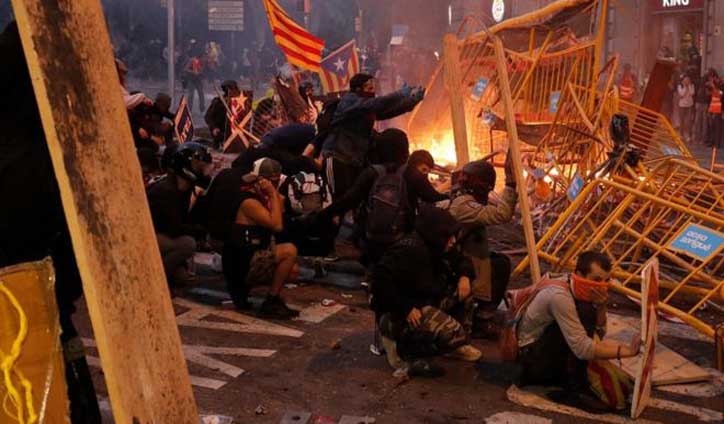 Fresh clashes between riot police and protesters have broken out in Barcelona amid continuing anger over the jailing of Catalan separatist leaders.
A general strike was announced and five marches, all peaceful, converged on the city centre, bringing the streets to a standstill.
Police estimated that more than 500,000 people had joined Friday's rallies.
Protesters also blocked a motorway on the Spain-France border, causing huge tailbacks.
Catalan regional leader Quim Torra thanked those who had demonstrated peacefully and criticised the rioters.
He said the sentences handed down to separatist leaders would not deter the campaign for independence.
"We'll return to the ballot box again on self-determination," he said.
Speaking in Brussels, acting Spanish Prime Minster Pedro Sanchez warned that those who caused disturbances would face justice.
"There is no space for impunity in relation to the serious acts of violence we have witnessed over recent days in different cities in Catalonia," he said.
What is the latest?
Masked protesters confronted police in Via Laietana late on Friday, throwing stones and cans at lines of officers in riot gear. Rubbish bins were dragged into the streets and set alight.
Police responded with tear gas, witnesses said.
Further north, Catalan police closed the motorway at La Jonquera on the French border as about 200 protesters occupied the road. Demonstrators blocked at least 20 major roads across the region, reports said.
Earlier, Barcelona's Sagrada Familia church - one of the city's main tourist attractions - was closed after protesters blocked its entrance. In a statement posted on its official Twitter account, the church said a group of protesters was standing at the entrance and interfering with access to the interior.
Meanwhile, Barcelona and Real Madrid football teams postponed a match they were due to play on 26 October.
The famous Spanish rivals had been set to meet in El Clásico - a hugely popular fixture due to be held at Barcelona's stadium - but postponed it because of fears of civil unrest.
Agencies

Dhaka/Nasim
risingbd.com