Children among 6 dead in US school shooting
News Desk || risingbd.com
Published: 09:41, 28 March 2023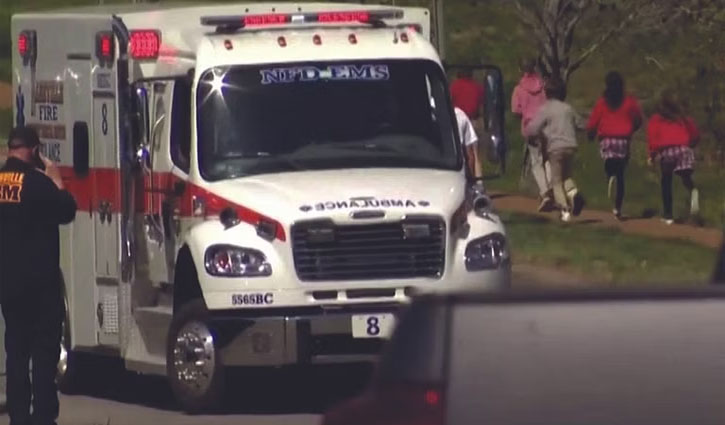 Photo: Collected
Six people - three children and three staff - have been killed in a shooting by a former student at a school in the US city of Nashville, Tennessee.
Three of the victims were pupils aged nine or under at Covenant School. Police named them as Evelyn Dieckhaus, Hallie Scruggs and William Kinney.
The adult victims were named as Cynthia Peak, 61, Katherine Koonce, 60, and Mike Hill, 61.
The private Christian school has about 200 students.
It teaches pupils from three years old up to around 12.
Ms Peak was a substitute teacher working at the school that day. Mr Hill was a janitor and Ms Koonce was described as the Head of School on Covenant's website.
Police said the suspect was 28-year-old Audrey Hale, who identified as transgender.
Hale was armed with three guns, including a semi-automatic rifle, and was shot dead by police.
Police received the first call about the incident at 10:13 local time on Monday morning.
The suspect got in by firing through one of the school doors, which were all locked.
Hale fired shots on the ground floor before moving to the building's second floor.
As police cars arrived, Hale fired on them from the second floor, striking one in the windscreen, said police.
Officers rushed inside and shot the suspect dead at 10:27. One officer was injured by broken glass.
A search of a nearby parked car had led officers to "firmly believe" that Hale was a former student of the school, said police.
Police spoke with the attacker's father during a search of a nearby home that is listed as the shooter's address.
Nashville Police Chief John Drake said investigators there found a manifesto and "a map of how all of this was going to play out", including entry and exit points at the school building.
He also said the shooter had conducted surveillance while planning the attack.
After the shooting, parents gathered at a nearby church to be reunited with their children. As buses of children arrived, they hung their heads and hands out of the windows to wave to their parents, according to the Tennessean newspaper.
The Presbyterian-affiliated Covenant School is located in the upmarket Green Hills neighborhood, just south of downtown Nashville._BBC
Dhaka/AI