Leaked US documents: Washington`s spying on UN Secretary-General
Desk Report || risingbd.com
Published: 16:53, 13 April 2023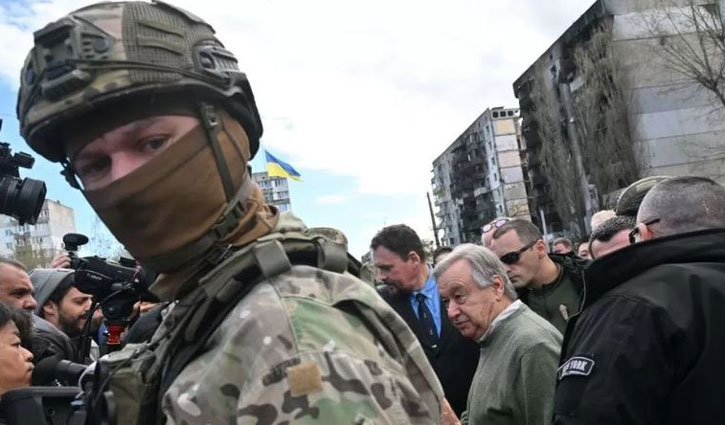 Washington has been monitoring and spying on the UN Secretary-General, according to new revelations in classified US documents released online.
The leaked documents show that Washington believes that UN Secretary-General Antonio Guterres is too willing to accommodate Russia's interests during the Ukraine war.
The files contain several documents of private communications between Guterres and his deputy. This is the latest case of disclosure of confidential documents. These documents contain Guterres' candid comments on the war in Ukraine and a number of African leaders.
One of the leaked documents focuses on the Black Sea grain deal brokered by the United Nations and Turkey in July following fears of a global food crisis. This shows that Guterres was so keen to preserve the agreement that he was willing to accommodate Russia's interests.
"Guterres emphasized his efforts to improve Russia's ability to export, even if this involves sanctioned Russian entities or individuals," the document said.
His actions in February "undermined broader efforts to hold Moscow accountable for its actions in Ukraine," according to the assessment.
Another document from mid-February contains a frank conversation between Guterres and his deputy, Amina Mohamed, in which Guterres expressed "dismay" at EU Commission President Ursula von der Leyen's request for Europe to produce more weapons and ammunition as a result of the war in Ukraine. " he does.
It is abundantly clear that the US is among a number of countries that regularly spy on the UN - but when the data from this spying is revealed, it is deeply embarrassing and potentially damaging to the world's leading diplomat.
The first screenshots of the documents that news sources have been able to verify appeared on Discord - a popular social media platform among gamers - and were shared across several chat channels.
Source: iranpress.com
Dhaka/Nasim