Voting underway for 2nd round of Turkey's presidential election
News Desk || risingbd.com
Published: 11:48, 28 May 2023 Update: 12:46, 28 May 2023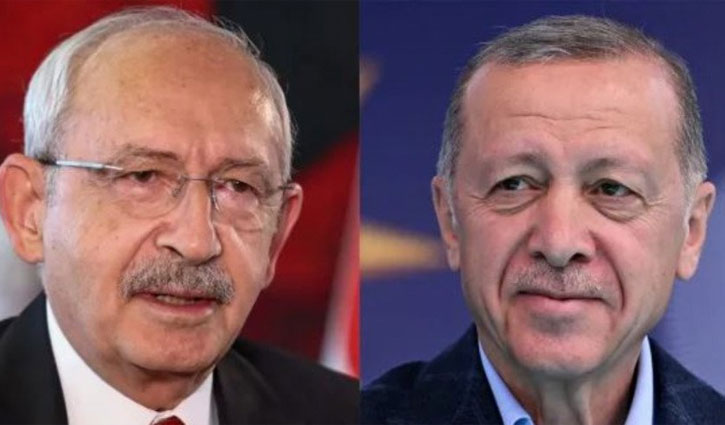 Photo: Collected
Turks will choose if President Recep Tayyip Erdogan will stay in power after a 20-year reign. The opposition wants to take Turkey on a different path amid concerns about the economy and refugees.
Voters across the country are heading to the polls for a second-round presidential vote, choosing between Erdogan or his rival Kemal Kilicdaroglu.
Polling stations opened at 8 am local time and were set to close at 5 pm. It is Turkey's first-ever runoff election.
In the first round of voting on May 14, Erdogan got 49.5 percent of support and Kilicdaroglu, the main opposition challenger, received 44.9 percent.
Both Erdogan and opposition candidate Kemal Kilicdaroglu rallied their supporters to vote on the final day of election campaigning.
Speaking to a rally in Istanbul's Beykoz district, Erdogan promised his supporters a "historical triumph" with a "vast majority," as he gears up for a first runoff vote.
The incumbent president also paid homage to his executed mentor, in an effort to mobilize his conservative base. Erdogan visited the mausoleum of Adnan Menderes, who was tried and hanged a year after the 1960 military coup, which restored Turkey to a more secular course.
"The era of coups and juntas is over," the 69-year-old declared after laying a wreath at his mentor's tomb in Istanbul. "I once again call on you to go to the ballot boxes. Today is a special day for us all."
Kilicdaroglu, meanwhile, called on "those who love their homeland" to "protect the ballot boxes" during a campaign event in Ankara.
Sunday's runoff election pits the country's decades-long ruler Recep Tayyip Erdogan against challenger Kemal Kilicdaroglu. Erdogan held what could be a vital lead in the first round of voting, defying opinion polls.
Erdogan has governed the country for the past 20 years, first as prime minister, starting in 2003, then as president from 2014 onwards. The strongly religious president founded his Islamic-conservative AKP (Justice and Development Party) in 2001.
The party won an absolute majority in parliament only a year later. Erdogan has not lost an election since, and after each victory he has found new ways to strengthen his grip on power.
He amended the constitution to introduce a presidential system in 2017 which saw him secure both the party chairman and the president posts at once.
Kilicdaroglu, by contrast, ran a more moderate campaign up until a few days ago. As the chairman of Mustafa Kemal Ataturk's CHP party, he presented himself as a reconciler who wanted to unite Turkey's deeply divided society.
Among his promises was that of restoring the country's parliamentary system.
However, after the disappointing first round, the opposition opted for a radical change of course. Kilicdaroglu's appearances are now loud and aggressive; he strikes a much harsher tone, and rails against refugees in an effort to shore up voters.
Sunday's decisive vote is set to settle how the country will be governed, where its economy is headed and the shape of its foreign policy.
Erdogan's critics have accused him of silencing opposition and driving inflation to astronomical figures, owing to his low interest rates policy.
Sluggish relief efforts after devastating earthquakes in the Turkish-Syrian border region earlier this year has also drawn fierce criticism towards Erdogan's government._Agencies
Dhaka/AI