How Odisha train accident happened
News Desk || risingbd.com
Published: 12:06, 3 June 2023 Update: 12:16, 3 June 2023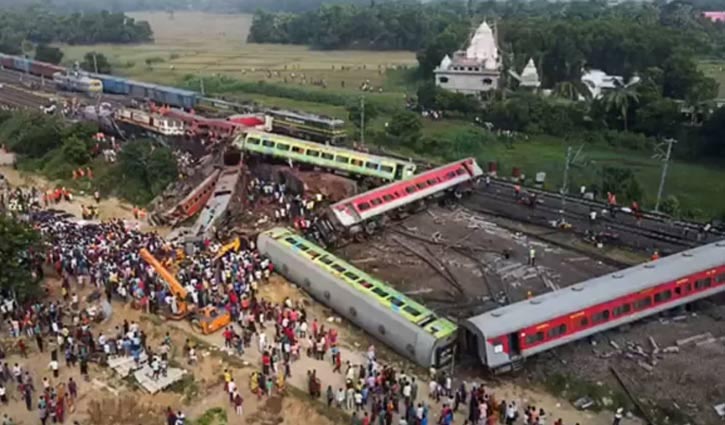 At least 238 people were killed and more than 900 injured after a horrific three-train collision last evening in Odisha's Balasore.
The incident took place when a passenger train, the Coromandel Shalimar Express, derailed and hit a goods train, and another train, the Yesvantpur-Howrah Superfast, crashed into the derailed coaches.
The number of dead is likely to rise, and many are believed to be trapped in the wreckage.
"Two passenger trains had an active involvement in the accident while the third train, a goods train, which was parked at the site, also got (involved) in the accident," Amitabh Sharma, executive director, Indian Railways, said.
One of the deadliest train accidents took place around 7 pm, when many passengers were sleeping.
The Coromandel Shalimar Express, heading to Chennai, reportedly derailed and hit a goods train, after which many coaches flipped over.
The Yesvantpur-Howrah Superfast then collided with the derailed coaches. Both trains were moving at a high speed when the collisions took place.
According to officials and witnesses, the massive tragedy took place in a matter of minutes, between 6.50 pm and 7.10 pm.
The Railways have ordered a probe amid questions on possible operational failure.
Rescue operations continued overnight as workers and local people tried to pull out bodies and survivors from the mangled wreckage.
Sanjay Mukhia, a daily wage worker travelling to Chennai on the Coromandel-Shalimar Express, had gone to the toilet when he felt a huge jolt.
"Everything was shaking and we could feel the coach toppling," Mukhia, who is from Bihar, told NDTV, showing his injuries.
He was rescued from the wreckage shortly afterwards.
Visuals from the accident site showed coaches on top of each other and twisted steel, with passengers' belongings strewn all over. Lines of bodies were collected by rescue workers and more were being extricated from the wreckage.
According to one survivor, severed limbs were scattered over the ripped metal wreckage.
"I was sleeping when the train derailed. Some 10-15 people fell over me. When I came out of the coach, I saw limbs scattered all around, a leg here, a hand there...someone's face was disfigured," the survivor said.
Mohammad Aqueeb was travelling in a big group of 26 in three coaches. The group mostly included students heading to Kerala.
"We were inside the S-4, S-3, S-2 coaches. Suddenly we heard a loud crash and the coaches flipped over. We were all safe," Aqueeb said.
The group was brought out through the windows of the smashed coaches. "We are lucky to be alive. We don't want to go anywhere now but back home to Bihar," he said.
Dhaka/Mukul