Odisha tragedy: Bodies in white shrouds piled at hospitals
News Desk || risingbd.com
Published: 12:35, 3 June 2023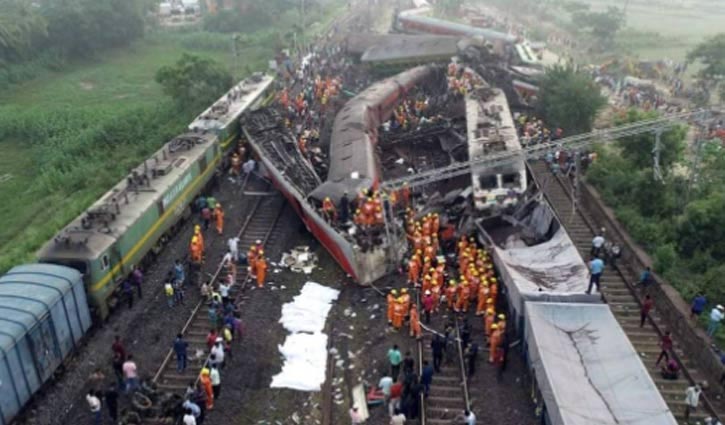 The first light brought with it the horrific extent of one of India's worst train tragedies. These are the mangled remains of the derailed coaches from two passenger trains.
The horrific train crash that killed 238 people and injured about 900 in Odisha's Balasore on Friday evening was caused when the Shalimar-Chennai Central Coromandel Express derailed and collided with a goods train that was parked on the loop track on the side, and the derailed coaches hit the incoming Bengaluru-Howrah Superfast Express, a Twitter user who claims to have survived the crash has said.
Eye witness accounts say the impact was so powerful, scores of people were thrown out of the train through the broken doors and windows.
12 coaches of the Coromandel Express were derailed. Some of these hit a stationery goods train on a parallel track. Hundreds turned up at the hospital to donate blood in Odisha.
A massive rescue operation was started on Friday night at the accident site in Bahanaga Bazar near Balasore to pull out people trapped in the derailed coaches. Currently, 3 NDRF, 4 ODRAF and 22 Fire Services personnel have been deployed for the rescue operations at the accident spot.
"The local people really went out on a limb to help us… They not only helped in pulling out people but retrieved our luggage and got us water, " Rupam Banerjee, one of the passengers, told reporters. One of the coaches "was pushed into the ground " as another from a neighbouring train collapsed on top of it, passengers said.
Work is on to try and extricate that particular bogie and retrieve the dead in it. "This will push up the death toll significantly," a state disaster relief officer said.
Balasore district hospital looked like a war zone with the injured lying on stretchers in the corridor and rooms bursting at its seams with extra beds propped up.
Harried medical staff were seen trying to bring succour to patients many of whom are from states other than Odisha and had difficulties in communicating. In all some 526 railway accident victims have been admitted to this one single hospital.
The morgue at the hospital was piled with bodies in white shrouds, many of them yet to be identified. Hospital officials said relatives are yet to make their way to the town as many train services have been cancelled or delayed due to the accident on the major railway trunk route.

Dhaka/Mukul