PM finds BNP regime's involvement in Aug 21 attack
Published: 15:27, 21 August 2019 Update: 15:18, 26 July 2020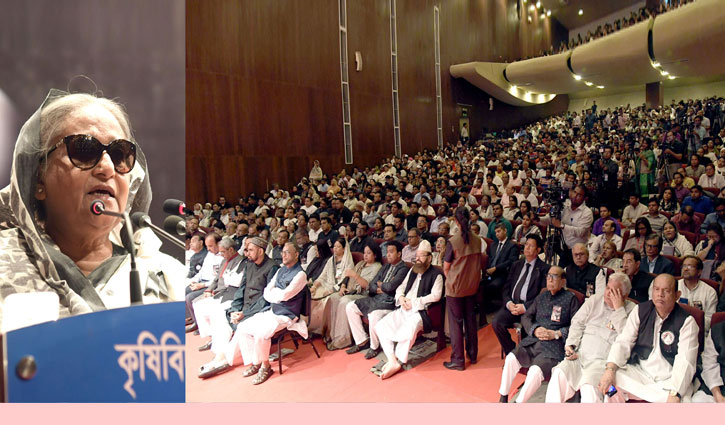 Desk Report: Alleging that the then BNP-Jamaat government was involved in the grisly August 21 grenade attack in 2004, Prime Minister Sheikh Hasina on Wednesday said it is not possible to carry out an attack of such scale without government's patronage.
"Such an incident (grenade attack) cannot take place in broad daylight without the patronage of the then BNP-Jamaat coalition who was in power at that time," she said while addressing a discussion marking the 15th anniversary of the August 21, 2004 grenade attack.
Awami League (AL) organised the event at the auditorium of Krishibid Institution Bangladesh.
Sheikh Hasina said she was not supposed to survive the attack and even the then government did not think so. "I wasn't supposed to remain alive. They (govt) also didn't think that I would remain alive. I know many things. Those who carried out the attack took shelter in a place from where a phone call was made to know whether I was killed," she said.
"Khaleda Zia (then PM) perhaps also had kept a condolence message ready so that she can issue it soon after my death," she added.
At the beginning of the programme, a one-minute silence was observed as a mark of profound respect to the memories of the massacre victims.
AL Advisory Council member Amir Hossain Amu, General Secretary Obaidul Quader, presidium members Sheikh Fazlul Karim Selim and Sahara Khatun, former AL minister Mofazzel Hossain Chowdhury Maya, Mayor of Dhaka South City Corporation Sayeed Khokon, AL organising secretaries AFM Bahauddin Nasim and BM Mozammel Haque, Dhaka South City AL unit President Haji Abul Hasnat and Dhaka North AL unit general secretary Sadek Khan, among others, spoke on the occasion.
The barbaric grenade attack was carried out on an anti-terrorism rally of Awami League on Bangabandhu Avenue in the capital on August 21, 2004 during the BNP-Jamaat government aiming to wipe out the AL leadership.
Twenty-four people, including then president of Mohila Awami League and late President Zillur Rahman's wife Ivy Rahman, were killed and over 500 others suffered splinter injuries in the grisly attack and many of them became crippled for life.
Sheikh Hasina, the then opposition leader, narrowly escaped the attack but sustained hearing impairment due to the impact of the repeated grenade blasts near the truck-dais of the huge public rally. The AL men saved her life creating a human shield surrounding her._unb
risingbd/Dhaka/Aug 21, 2019/AI
risingbd.com