Health rules violated, public transports charge extra fare
Published: 16:20, 26 June 2020 Update: 15:18, 26 July 2020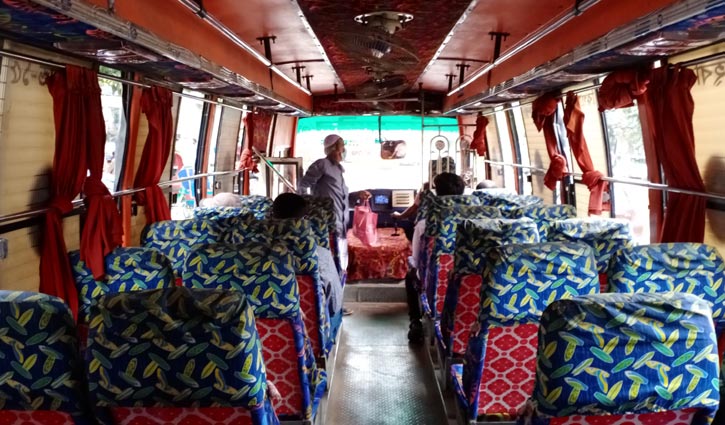 There has been a passenger crisis in the capital's public transports as well as long-haul buses. The government has recently allowed public transport with half of the passengers after a long suspension to prevent the spread of the virus. But there have been allegations of failing to comply with government-mandated health guidelines and charging extra fares in public transports.
It was seen on June 25 and June 26 in the capital, there were no sanitizer or materials to disinfect virus in most of the buses. Besides, passengers are being picked up from everywhere and 3 feet distance is not being maintained while passengers are getting on and off. Passengers alleged that the condition of disinfecting the bus before every journey is not being maintained.
Meanwhile, several passengers alleged that the public transports are charging extra fare than that fixed by the government.
When asked, Mohammad Ismail, a driver of Rojonigondha bus plying on Mohammadpur-Jatrabari route said we are trying to follow the health guidelines from the very beginning of bus operation amid coronavirus. We had also put hand sanitizer on the bus. But it is not being kept now because of the passenger crisis. It is not possible to buy sanitizers frequently. The bus owner is also not providing the sanitizer.
Raja city bus supervisor Mohammad Masud Hossain said, 'We always make passengers aware of the issue. But nobody wants to follow rules.'
When asked, Masud said, 'We follow the government instructions and charge 60 percent extra fare set by the government. Sometimes Tk 2 or Tk 5 is being taken extra because of the change crisis.'
Zubair Hossain, another worker of the same transport said we have disinfected the passengers well with hand sanitizer so far. But now there is a passenger crisis. So it is not possible to buy hand sanitizers due to the financial crisis.
Helper of a bus Mohammad Miraz said, 'We are picking up passengers with caution. But many of them are reluctant to follow health guidelines. Three to four passengers crowd at the door while getting off. If we request not stand there, they react badly.
Mizanur Rahman, manager of Ena Paribahan of the capital's Gabtoli, said hand sanitizers are being provided to every bus. Every passenger is being disinfected before getting on the bus. There is a huge passenger crisis now. That's why we have to face loss every day.
Khandaker Enayetullah, secretary general of Bangladesh Transport Owners' Association said no complaints of breaching social distance have yet been found on long-haul buses so far. The owners are charging what the government has fixed. However, I have received information about some irregularities in public transport in the capital and the city bus owners to drive buses in compliance with the health guidelines.
He further said the coronavirus pandemic has now caused passenger crisis. We have to run buses despite the crisis as nobody knows when the crisis will overcome. The owners and workers will survive if some buses run instead of shutting down totally.


Dhaka/Hasibul/AKA
risingbd.com