Primary syllabus being cut short
Published: 14:54, 24 July 2020 Update: 15:18, 26 July 2020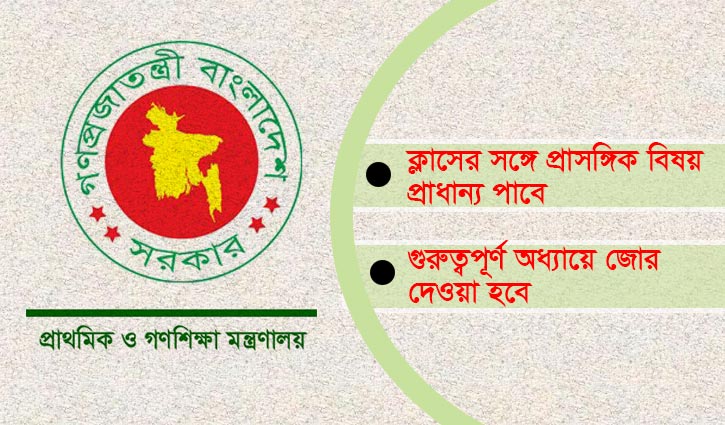 The government has taken a new initiative to make up the loss for the students in coronavirus situation. According to the initiative, the Ministry of Primary and Mass Education wants to shorten the syllabus by separating more important chapters. Necessary directions have already been given to the Directorate of Primary Education and the National Academy of Primary Education. According to people concerned, this initiative will be implemented soon.
Meanwhile Prime Minister Sheikh Hasina earlier said, 'Educational institutions will not open until September unless the situation becomes normal. The Ministry also says it is not possible to open the educational institutions until the situation develops.
When asked, Primary and Mass Education Ministry Secretary Akram Al Hossain said, 'We are continuing educational activities through television to make up for the loss of students due to the closure of educational institutions for a long time. But still many are depriving of academic activities. So, we considering new plan to make the loss.'
He further said, 'Special arrangements have been made so that the students can complete the syllabus as soon as the institutions open. The National Academy of Primary Education and the Directorate of Primary Education have been instructed to prepare a short syllabus identifying the subjects for achieving class-based basic competencies or core competencies.'
When asked, Fashiullah, director general of the Directorate of Primary Education (DPE), said work has also started as per the instructions of the ministry. The National Academy of Primary Education has also been instructed in this regard. Once the general holidays of students are over, the examination might be taken in December after completing the syllabus. However, If the holidays continue after September, the academic year may take a month or two next year.
He further said, 'A short syllabus will be made identifying the topics relevant to the next class. Emphasis will be placed on important chapters.'
Director General (DG) of the National Academy of Primary Education Shah Alam said, 'We are working with an intention that educational institutions to be opened in September. A meeting will be held in this regard on Sunday (July 26). The syllabus might be finalised in the meeting.'
Dhaka/Yeamin/AKA

risingbd.com