Drinking tea from plastic cups poses cancer risks
News Desk || risingbd.com
Published: 20:36, 27 February 2021 Update: 20:54, 27 February 2021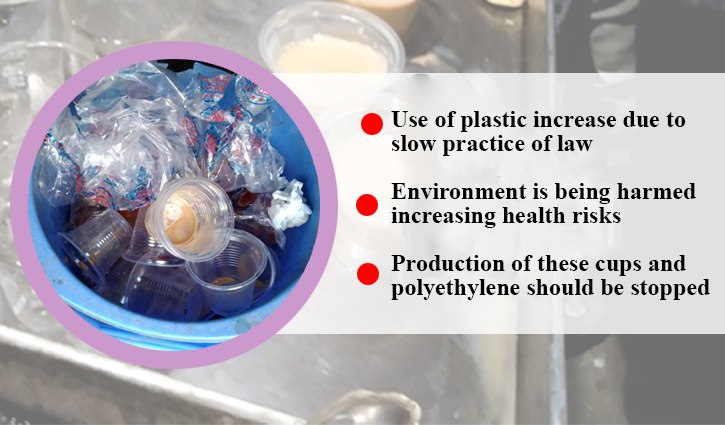 The use of plastic cups in tea shops has increased across the country. Tea sellers are providing hot beverages from paper cups in lieu of glass-cups.
After using the cups, users are disposing of those into roadside drains, footpaths, and streets. Health experts opined that these cups would be a reason of health risks even cancer.
Besides, environmentalists said, the use of plastic cups and polyethylene is destroying the balance of the environment.
Neighboring India banned the use and import of six types of plastic items in 2020, according to media. The country is also planning to build a plastic-free country by 2022.
On the contrary, the use of plastic items is common here in Bangladesh. These plastic goods are being used in marriage, birthday and other programs randomly. Ultimately, these items are being dumped into here and there. Although, polyethylene items are banned in the country but still those are being continued. One-time plastic cups, plates, and glasses have been added with the contest of plastic use.
The concerned authority said a good number of people don't choose reused glass cups to avoid health risks during the ongoing Coronavirus pandemic. They want one-time plastic cups which allures tea-sellers to use plastic cups.
Media worker, Giash Ahmed said, "We are using plastic even after knowing it is harmful. We are throwing those plastics in the streets, drains, rivers, parks, seas without caring about environmental pollution. We should stop using these on our own. You have to get used to using jute bags and paper bags."
Mentioning the harmful effects of beverage from plastic cups, Professor Dr. Farhad Mansur said, "The plastic cups usually used in tea shops are not food graded. As a result, various types of chemical reaction has been created after drinking tea from those plastic cups. Later, people can suffer from cancer due to it. So, no one should drink hot beverage from plastic cups."
N E/Nasim