Steve Chabot to Khaleda
US for solution thru' talks
Augustin Sujan || risingbd.com
Published: 16:55, 5 November 2013 Update: 15:18, 26 July 2020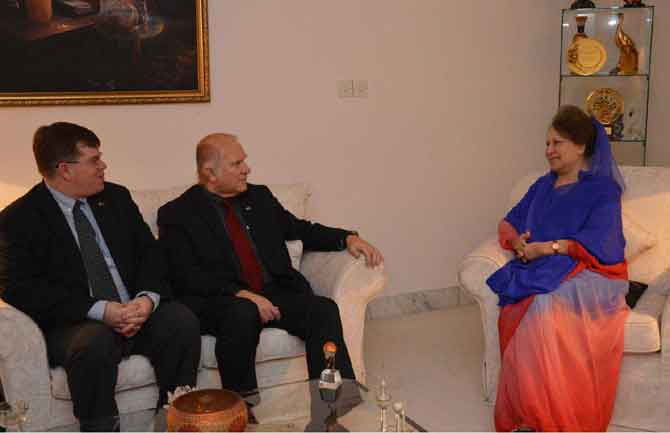 Steve Chabot meets Khaleda
Staff Correspondent, DHAKA, Nov 5: US Representative Steve Chabot hoped that major parties of Bangladesh would reach into a solution on polls-time government through talks for a free, fair and credible general elections.

The US Congressman expressed his hope when he met BNP chairperson and leader of the opposition Khaleda Zia at her Gulshan residence Tuesday evening. The meeting began around 6:30pm and lasted for 45 minutes.

"We want to see a free, fair and transparent election in Bangladesh. Bangladeshi people deserve no less than that," Chabot told reporters after the meeting.

Khaleda on her part, said that her party is ready to response if the government invites them for holding a dialogue.

Chabot, also the Chairman of the Foreign Affairs Subcommittee on Asia and the Pacific, expressed concern over the political violence in Bangladesh and said there is no alternative to stopping political violence.

He also urged all political parties to engage in talks avoiding violence for reaching a negotiation to hold a credible election with the participation of all parties.

Apart from the next election, bilateral issues, Bangladesh's war crimes trial, expansion of trade between the countries and terrorisms came up for discussion at the meeting.

BNP vice chairman Shamsher Mobin Chowdhury, chairperson's advisers Reaz Rahman and Sabihuddin were present at the meeting.

risingbd/ASB
risingbd.com