One Stop Service to be set up in all govt hospitals: Health Minister
Published: 18:42, 5 December 2022 Update: 20:00, 5 December 2022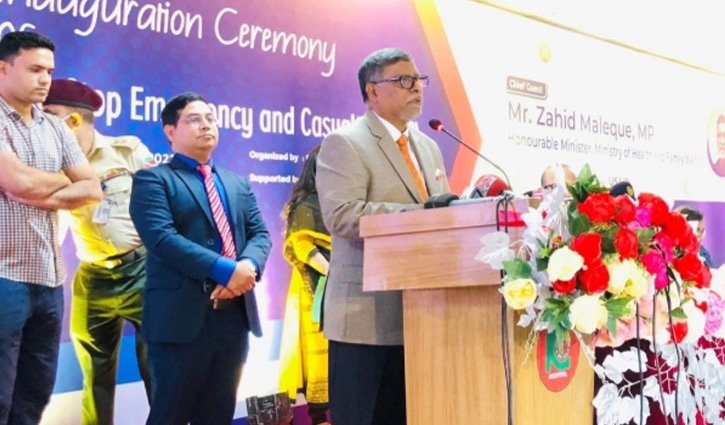 Zahid Maleque speaks at inauguration ceremony of One Stop Emergency and Casualty Service at Kurmitola General Hospital
Health Minister Zahid Maleque has said that One Stop Emergency and Casuality Service will be set up in all government hospitals across the country.
He said, "Pressure of patients will decrease once the service is launched. Alongside, it will increase standard of health services and decrease the death rate. For this, the government has decided to introduce this service in each medical college hospital, district sadar hospital and upazila health complex.
The Minister said this at the inauguration ceremony of One Stop Emergency and Casualty Service at Kurmitola General Hospital in the capital on Monday (December 5) afternoon.
Zahid Maleque said, "If it is possible to provide all types of modern treatment in the emergency department of the hospital, then it will be possible to reduce many deaths in the country. In the developed world, people suffering from complex diseases like stroke, road accident, heart attack survive due to emergency services with modern facilities."
About the vaccination program for Covid-19, the health minister said, "Bangladesh is now a role model in vaccination. We are the first to vaccinate such a large number of people in such a short time. It is not only our words, but the World Health Organization (WHO) has said this."
Zahid Maleque said, "We have built new hospitals during the Covid outbreak. We have increased the scope and quality of service in the old hospitals and appointed 10,000 doctors and 15,000 new nurses. Medical college admission test has started. We want no patient of our country to go abroad. That is why emphasis is being placed on increasing the quality of service in all primary, secondary and tertiary hospitals."
Mesbah Aajad/AKA