71 trucks of Indian onion enter Bangladesh
News Desk || risingbd.com
Published: 23:07, 5 June 2023 Update: 08:45, 6 June 2023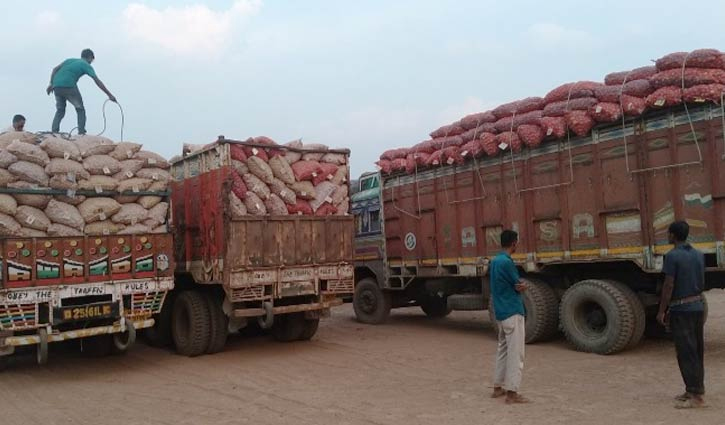 Some 71 trucks carrying Indian onion entered Bangladesh through four land ports of the country on Monday (June 5).
The onion-laden trucks entered the country through Benapole, Bhomra, Hili and Sonamsjid land ports from the noon to 8:00pm on Monday. It was understood that the onions are being imported at USD 220-250 per ton.
According to the reports sent by risingbd district correspondents, some 57 trucks of onion entered the country through Sonamsjid land port in Chapainawabganj on Monday. The amount of imported onion was estimated around 1,097 metric tons. Earlier, the last onion came through this port on March 15.
Apart from this, eight trucks of onion were imported through Bhomra land port in Satkhira. Officials of Bhomra customs station said that 10 more onion-laden truck are likely to reach the port tonight.
On the other hand, a company named N Alam Traders started importing onion from India through Hili land port in Dinajpur after about two months. On Monday, three trucks of onion entered the Hili Port.
N Alam Traders representative Sukumar Sarkar confirmed the information.
He said, "Around 6:00 pm on Monday, onions were imported through Hili Land Port by trucks. A total of 110 metric tons of onion were supposed to be imported by five trucks. Of which, three trucks with onion arrived at the port on Monday. The rest two trucks are expected to reach the port on Tuesday (June 6)."
Meanwhile, three onion-laden trucks entered the country through Jashore's Benapole Land Port around 8:00 pm on the day. Though the onion was imported at USD 150 per metric ton, but tariffed at USD 320. Traders have to pay 10% duty on the customs value to get clearance.
Rafiqul Islam, the owner of C&F Royal Enterprise, said, "Some 75 metric tons (three trucks) of onion of the importer entered Benapole port. After customs and port formalities, these onions will be sent to Dhaka. With imported at USD 320 per metric ton, this onion costs Tk39 per kg after paying government duties and taxes. after port charges, truck fare and other expenses, the onion will cost Tk 45 per kg.
Hemant Kumar Sarkar, the officer of plant pest control center of Benapole port, said instructions to import onions have arrived. Royal Enterprises, a C&F agent, applied to the Plant Protection Center for the importation of 75 metric tons of onion on behalf of their importer. The clearance has been granted.
Meanwhile, due to the news of onion import from India, wholesale traders started selling onions at low prices in different markets of Hili and Birampur in Dinajpur. They said, if the sale of imported onion starts, the price of onion in the market may decrease by Tk 20 to Tk 30 per kg. So, the onions remaining stock in the godowns are being sold at a loss of Tk 9 to 10 per kg.
Mentionable, the government imposed a ban on importing of Indian onions from March 15 to ensure fair price of domestic onions. Then due to the unusual increase in the prices, the Ministry of Agriculture announced to allow the import of onions from Monday (June 5).
Dhaka/NH/AKA