IWPG hosts conference on 'The Role of Women for Sustainable Peace
Ibnul Qayum, From South Korea || risingbd.com
Published: 23:04, 19 September 2023 Update: 17:07, 23 September 2023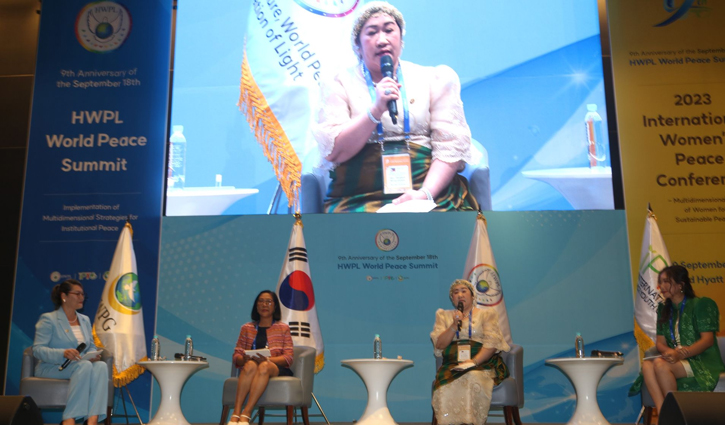 The international Women's Peace Group (IWPG) held the 2023 International Women's Peace Conference (IPWC) on theme 'The Role of Women for Sustainable Peace'.
The IWPG held at the Grand Hyatt Incheon west on September 19. It was simultaneously interpreted and broadcasted in 8 languages including Korean, English, French, Spanish, Arabic, German, Mongolia and Ukraine.
The purpose of this event was to highlight IWPG's achievements so far and discuss what women can do for peace in each of their positions. It was also part of the 9th Anniversary of the September 18th World peace summit, hosted by IWPG's cooperative organization, HWPL.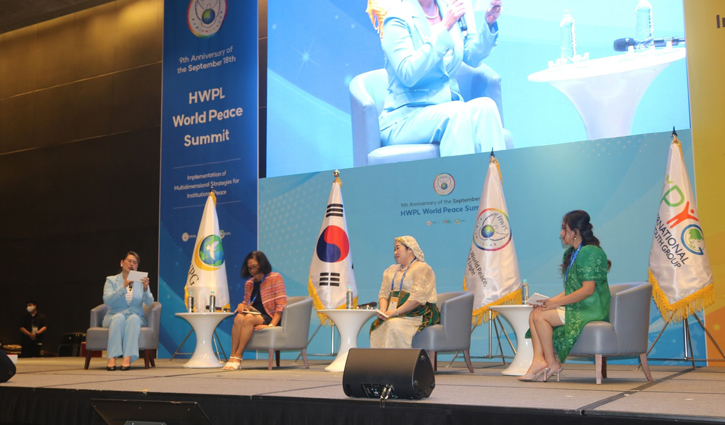 Firstly, H.E. Maria de Fatima Afonso Vila Nova, First Lady of Democratic Republic of Sao Tome and Principe, gave her congratulatory remarks. Next special speaker H.E. Hon. Aya Benjamin Libo Warille, Minister of Gender, Child and Social welfare of South Sudan, emphasized the necessity and urgency of sustainable peace.
The event was divided in to 3 small sessions: peace education, a culture of peace, institutionalization of peace. In the first session, Dr. Kadia Maiga Diallo, Secretary General of the Malian National Commission for UNESCO and Islamic Educational, Scientific and Cultural Organization (ISESCO), talked about the importance and opportunity of women's peace education.
Next, Neziha Labidi, Present Co-Chair of the United Nations Civil Society Regional Reference Group for Africa gave a speech titled 'Empowering the future: Women's Peace education in a Changing world.' Public Health Specialist at Christian society Service Commissions, Lilian Benedict Masaki explained the change in Tanzania brought by PLTE.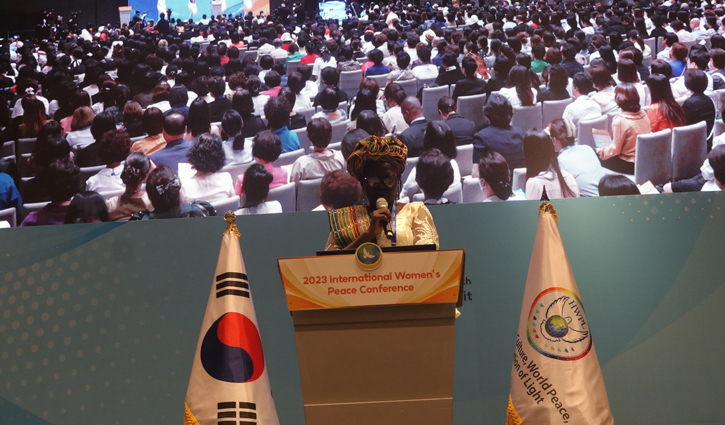 In the second session, coordinator of International Affairs of the IWPG HQ moderated the discussion with 3 Filipino women on how women's lives changed peaceful in Mindanao, Philippines. The speakers were Hon. Maria Theresa Royo-Timbol, Municipal Mayor of Kapalong, Davao Del Norte; Hon. Elizabeth Mangudadatu, Maguindanao; and Ms. Ruby Banares-Victorino, Past President of Zonta Club of Metropolitan Pasing.
The topic of the third session was the limitations of existing international laws and the meaning of Declaration of Peace and Cessation of War (DPCW). Dr. Ahlam Beydoun, Former Professor at the Faculty of law , Political and Administrative Sciences, Lebanese University, Beirut, evaluated the limitations of international law surfaced by the current international affairs.
Next, Lee Kyou-sun, the Director General of Peace Education of the IWPG HQ introduced the meaning and main points of the DPCW. Lastly, IWPG Advisory and former Mongolian Member of Parliament, Ms. Budee Munkhtuya, who is also President of Association of Mothers with the Order of Famous Mother, talked on the topic of the role of women for the institutionalization of sustainable peace.
IWPG Chairwoman Hyun Sook said, 'We can never be free from war unless we do not have a system to establish sustainable peace all around the world. We should think about the peace we truly need. Also, IWPG is united with women worldwide in a multi-faceted manner to achieve peace that the world needs. I look forward to the groundbreaking plans and active execution of the participants of this conference.'
Lastly, there was the appointment of IWPG Advisories and Publicity Ambassadors and awarding of the IWPG Peace Achievement Award. Aya Benjamin Libo Warille (South Sudan) and Pascal Esho Warda (Iraq) were appointed as IWPG Advisory Council members and Warda Sada (Isreal) was appointed as Publicity Ambassador, Lalji Balghis (India), Vinutthaput Phophet (Thailand) and Wanja Cheon (Republic of Korea) were awarded the IWPG Peace Achievement Award.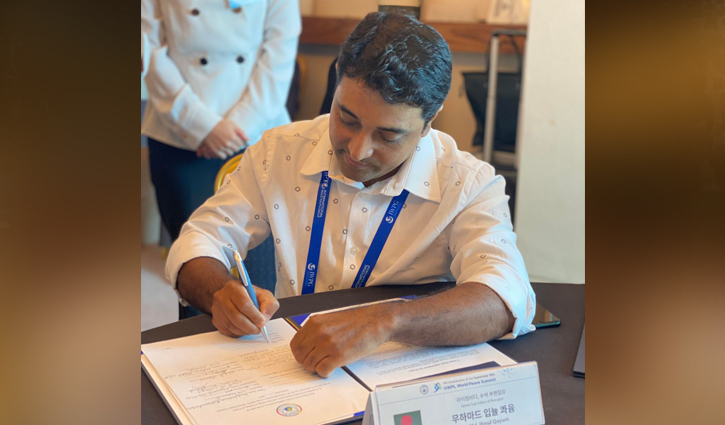 Earlier in the morning, Abdul Momin, principal of Uttara Model School and College, D. Mahbubur Rahman, Principal, Shamsul Haque College, Professor Obaidullah Nayan and Ibnul Qayum Sony Senior Sub-Editor at risingbd.com participated in the Bangladeshi session.
At that time, there was a discussion about how to peace education can be included in the national curriculum in Bangladesh. Besides, each gave his own speech on the institutionalization of peace. Finally, a pledge to work for peace was signed with HWPL.
The session was moderated by Alex Kim.
Dhaka