Last session of HWPL 9th Summit
Declaration of joint statement on conflict restoration, spreading culture of peace
Ibnul Qayum from South Korea || risingbd.com
Published: 23:01, 20 September 2023 Update: 23:08, 20 September 2023
The final session of the Ninth Peace Conference of the South Korea-based international organization HWPL was held on Thursday (September 20) at the ballroom of the Grand Hyatt Hotel.
In the early 20th century, humanity, having experienced message destruction of human values through to world wars, designated 'peach without war' as its most fundamental value in the process of establishing a new international order.
However despite this imports conflicts of varying skills continue to Rob human lives incessantly.
Peace is sometimes regarded as ambiguous or unattainable and in certain instances the absence of tangible actions renders it a mere hollow rhetoric. Under the existing international legal farm work there is no way to prevent or prohibit it a state goes to war with another state.
This inherently places constraints on the complete cessation of wars. The international community must engage in a profound reassessment of the prevailing framework of the United Nations, given it's inability to forestall conflicts.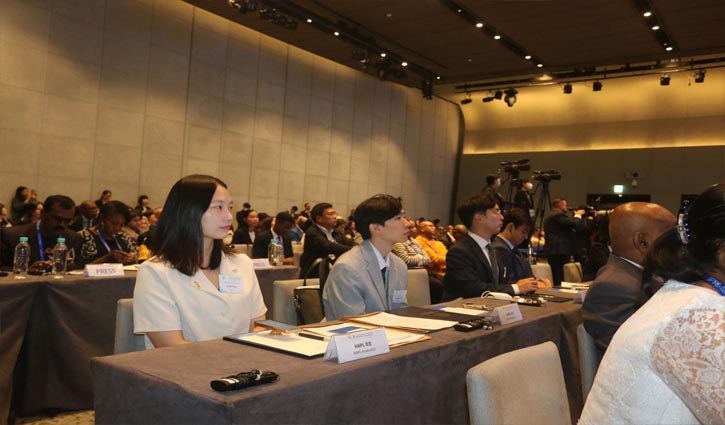 Consequently, there's and imperative need for an invigorated international legal paradigm. Heavenly culture, World peace, Restoration of light (HWPL), along with the global family of peace, is progressing towards establishing a new international legal instrument aimed at eradicating armed conflicts.
On March 14, 2016, in pursuit of institutionalizing peace, the 'declaration of peace cessation of war', in short, the DPCW, was proclaimed. Conceived under the leadership of chairman Man Hee Lee, the DPCW, consisting of 10 articles and 38 clauses, emphasize majors to prohibit the use of force, reduce the risk of wars and further eliminate the potential for war, and avoid religious discord. The primary objective of the declaration is to inherit and reaffirm the speed of the UN charter and the universal Declaration of human Rights, nearby advancing the common value of human Rights, Justice and freedom in the global community to create an era of peace bye mitigating the possibility of war and to ceaselessly disappeared a culture of peach.
As a result of the efforts, on January 24th 2014, HWPL successfully mediated a non-governmental peace agreement on the island of Mindanao, the Philippines, an area that had witnessed over four decades relentless bloodshed.
No based on the DPCW, HWPL is spreading a culture of Peace in Mindanao through peace education and cooperation through various legislate peace projects. The DPCW stands uniquely as it incorporates provisions x play City aimed at preventing religious conflicts and aspect of an overlooked in prior legal instruments. Building upon this declaration if a document endowed with legal binding power is formulated and subsequently addicted by every nation globally, conflicts will decrease and the basic principles of Peace will take root and change conflict Jones like the case of Mindanao.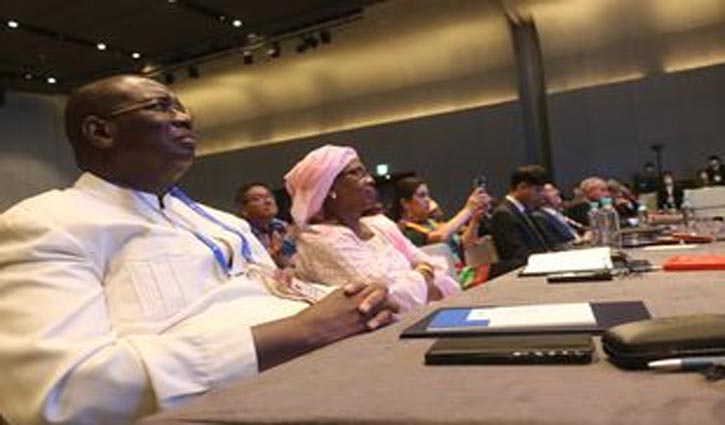 As chairman Man Hee Lee said, "This is a mission of all the people who have life on Earth since we are all a part of it. Therefore, we call for everyone to become messengers of peace regardless of age, gender and background. We HWPL will keep our cooperation around the globe with our two wings is the IWPG and IPYG to spread the culture and the spirit of peace two cease call wars and he peace in the world to leave it as a legacy for the future generations." Free pledge to - pasta is full atmosphere in conflict areas and spread a culture of Peace in all regions of the world. We are committed to ongoing efforts to enhance awareness for peace in every school, society, government and region such as erect HWPL peace monuments in conflict areas as a solemn remainder of the hurricane implications of war and the importance of implementing and maintaining peace in the region.
We pledge to undertake piece initiatives utilizing the articles of the DPCW, that way working continuously towards resolving conflicts in this region. Promote Legislate Peace (LP) projects to Foster and atmosphere to resolve conflicts and bring peace culture to place where projects are launched. This includes education on peace, the DPCW handbook, wait on Wayne seminars and round table discussions on subjects such as environmental issues m human rights, ethnic diversity, gender equality and sustainable development. Peace seminars online and offline are also basic activities to help bring the world together towards the one goal a tangible World Peace. Legislate peace projects include all peace activities that are connected to the rooting of Peace in the society through the DPCW. Carry out action plans for peace activities to institutionalized peace and build a national support system for the DPCW. We aim to present the DPCW to senior political figures and solicit their endorsement thereby garnering national level support for the DPCW.
Promote collaborative action such as DPCW endorsement and support through MOUs at city state levels and national levels to enhance practical cooperation and therefore establish a solid foundation of support for the DPCW to instill a sustainable culture of peace and realize it's institutionalization.
Request all works of Life starting with the head of states to help realize and understand the incomparable position they are given to bring people together for World Peace. We call upon the leaders of the world to administer top down this building in their state and reason through the DPCW. We call up on the civil society to realize their role based on article 10 of the DPCW to urge our leaders to support the DPCW to bring peace in each of our societies and regions. We call upon East global citizen to understand that civil society is a truly powerful forced to maintain peace in the world. We call upon distinguished political figures from various sectors to dick lead in supporting and advocating for the implementation of international legal instruments based on the DPCW and to join efforts as messengers of peace to safeguard our planet and humanity. We call up on the civil society to realize their crucial role to maintain peace in the world. We pledge to implements the results of our round table discussions from the last 2 days. We believe our actions and cooperation will make a difference in the world.

Dhaka/Mukul