NGOs committed to ensuring accountability
Published: 12:07, 11 February 2016 Update: 15:18, 26 July 2020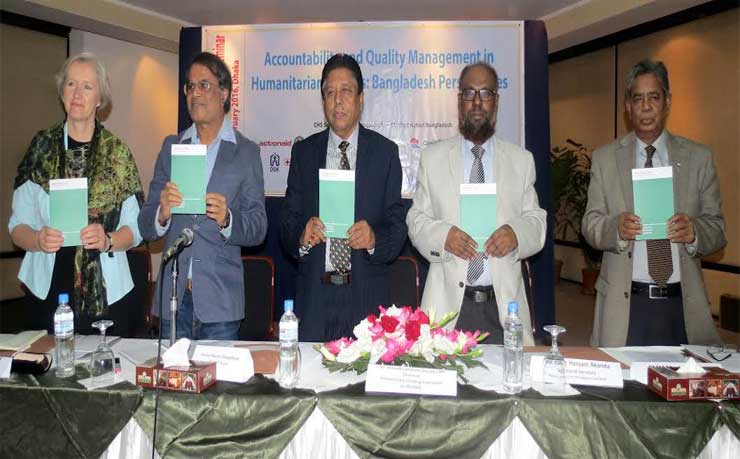 Staff Correspondent: Bangla version of Core Humanitarian Standard (CHS), which has developed in Bangladesh through a yearlong participatory process and field trail, has been launched in a seminar on Thursday.
The seminar titled " Accountability and Quality Management in Humanitarian Actions: Bangladesh Perspective" held in capital`s BRAC centre.
The seminar was organized by CHS support group and United Nations in Bangladesh with the assistance of host of national and international NGOs including ActionAid, BRAC, CARE, Christian Aid, CARITAS, COAST, Concern Worldwide, DCA, Disaster Forum, DSK, Red Cross and Red Crescent, Islamic Relief, Muslim Aid, NIRAPOD, Oxfam, Plan International, Practical Action, Save the Children, Tearfund, IoM, and World Vision.
The seminar was moderated by Rezaul Karim Chowdhury of COAST, Mr Dhirendra Debnath Shambu MP Chairman Parliamentary Standing Committee on Ministry of Disaster Management and Relief (MoDM&R) was there as Chief Guest, other guest were Md Zakir Hossain Akanda Additional Secretary MoDM&R, Mr BMM Mozharul Huq Secretary General Bangladesh Red Crescent Society, and Ms Judith Greenwood Executive Director CHS Alliance Geneva.
CHS has been developed during the period of 2013 and 2014 by HAP International, People in Aid and the Sphere Project through intensive global consultation and filed test. The CHS support group in Bangladesh took around one year to make it bangle translation and filed test.
risingbd/Dhaka/Feb 11, 2016/Shafiq/Nasim
risingbd.com