Two Letters of Kazi Nazrul Islam
Gazi Abdulla-hel Baqui || risingbd.com
Published: 16:40, 26 December 2021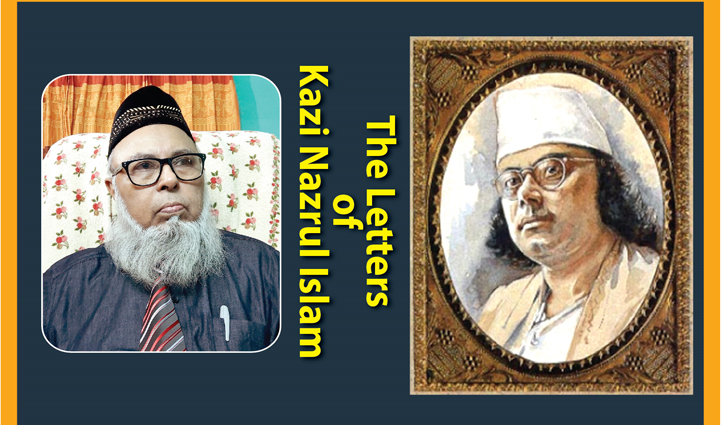 (These two letters numbers 2 and 13 respectively are selected from the book titled Nazruler Pattrabali (The Letters of Nazrul), published by Nazrul Institute, Dhaka)
Translated by Gazi Abdulla-hel Baqui
Letter Number: Two
'Mukti' (Freedom), a poem written by Nazrul Islam, was published in the Srabon 1326, 2nd Issue of 2nd year of 'Bangiya Musalman Shahitta Patrika' (The Literary Magazine of the Muslims of Bengal), the Quarterly Mouthpiece of 'Bangiya Musalman Sahitya Samiti' (The Literary Organization for the Muslims of Bengal). The editor of this literary magazine was Maulabi Muhammad Shahidullah. M.A. B. L., and poet Mohammad Mozammel Haque, B.A. and the publisher was Janab Muzaffar Ahmad. So far it is known 'Mukti' is the first published poem of Nazrul. Nazrul's second published poem is 'Kabita Samadhi' (Poetry Tomb), in Ashin Issue of 'Shawghat'. After the publication of 'Mukti', this letter was written to the editor of 'Bangiya Musalman Shahitta Patrika. This letter was published for the first time in 'Shawghat' after 10 years.
From
Qazi Nazrul Islam
Battalion Quartermaster Havilder
49th Bengalis,
Dated, Cantonment, Karachi
The 19th August 1919
Take thousands of Salam!
After entreaty, I have been wondered more than to be grateful to you that my insignificant writing has been able to make a room in your literary magazine. I have been greatly feared lest my writing should fall into the line of buds though I am not a bloomed flower without bud. And if I would be so to the eyes of anybody, then it must be a 'Duthra' flower. However, my language fails to express that I am so grateful to you. Of course, if such inspiration of you always flows, I must be a very big poet and writer, and that it is absolutely true. Because, I have sent a long poem this time and an almost 'long story' for publication in your next Issue though the 'Katrick' month is still afar. I have sent it early so that you can have time to read it quite well and it may be that you also get it printed early. More so I have a word to say. In the end, better writings might crowd and tarnish my writing fully, and then you may not have time to read all the submitted ones. Because I know quite well, the poor editors might have been sweated at the audacity of the verse-sick youth. Well, I have poured so much trash. For nothing I kept throating your time, too. Now, please listen to the rest of the words. If any writing of mine is disliked, in that situation without throwing it away if this pour soul is informed, I shall send the essential means for its safe return, because a soldier leads a hard life. Employing thousand times harder labour than it, I write a little bit. Though it appears completely worthless to a person, to me it is invaluable! And it is quite natural to all the writers. A stamped envelope accompanies this letter to send your opinion whether you have liked it or not after reading.
And if your Paper fails to contain my poem because of dearth of enough space, then I would be highly pleased if you handover this to the editor of 'Showghat'. I am sending writings to 'Showghat' by one and two. Let me know what you will have done.
If I am informed of any quarries you have regarding the story, I shall instantly reply to them with thanks, because you have still enough time.
Here time is money-value; so a piece of writing may not be an excellent one. Undisturbed time is not available. It is totally impossible that I can keep an extra copy or 'duplicate'.
By the by you have changed the title of my poem 'Khama'(Pardon) and retitled it 'Mukti'(Freedom) and at this I am very pleased. I request you for correcting such faults in future. There are so many printing mistakes, whether is there any possibility to be a bit careful? I am well; inform me of your well-being. With submission—
A humble soul
Nazrul Islam


Letter Number: Thirteen
This letter was written to Murlidhar Basu, one of the editors of 'Kalikalam' (InkPen), 'Nalinida', 'Shailaja', 'Premen' and 'Achinta' are Nalinikanto Sarker, Nripendra Krishna Chattapadhaya, Shailajananda Mukhapadhaya, Premendra Mitra and Achitakumar Sengupta respectively.

Hoogli
25 November '25
Dear Murlida!
Receiving your letter today my feverish mind grows refreshed to some extent. Out of your few words, the amount of love that overfloods has flowed to the core of my heart. For the last six days, I have been suffering from fever and running a temperature of 103, 4, 5 degrees, but today I feel un-feverish, Fifty grain quinine gathers forty-nine amount of air in the brain. My one head has become as heavy as Rabon having ten heads; my two hands are growing irritated–with it if I would have more twenty hands, then at first damning the community of deities, we could have shown whether the true moonlight enters our dilapidated houses or not. The problem is that, Murlida, we can be Kumvakarna (in Mahabharata, the younger brother of Rabon who sleeps for six months at a time), we can be Bivishan (another brother of Ravana who is terrific)—but cannot be only Rabon. I have never nurtured a desire to become a god—I want to become a strong-boned monster Asur of flesh and blood. Do you see the effect of quinine?
Well, now I am thinking how to build up the mud house for Shailaja? My head feels spells of dizziness; the blade of plough is in my hand–which comes out first only the plough or the wood. I have sent only a poem 'Krishaner Gan' (Song of farmers). Nalinida has also recalled Chidanandha–who falls flat with fever. Possibly the office needs to be shifted to Chitpur. I have told to hang a plough at the doorway of the office. That will be the signboard. It would be good, is it not? However, tell Shailaja that something would surely be done.
You must have to come here for one day. I request you with whatever is the Bangla word of 'Sincerely'….Have you got 'Dolon-chapa' (Name of a flower) from Nripen. I have given him for all of you….

Yes, you have to write for 'Langal' (Plough). You must write for the 'First Issue'. Let all should put their shoulders together…strongly encourage Shailaja, Premen, Achinta to write…no room to write more.

—Nazrul
Dr. Gazi A. H. Baqui is a poet, translator, researcher and academician.

Dhaka/Mukul