Top Jubo League leaders at Gono Bhaban
Published: 12:18, 20 October 2019 Update: 15:18, 26 July 2020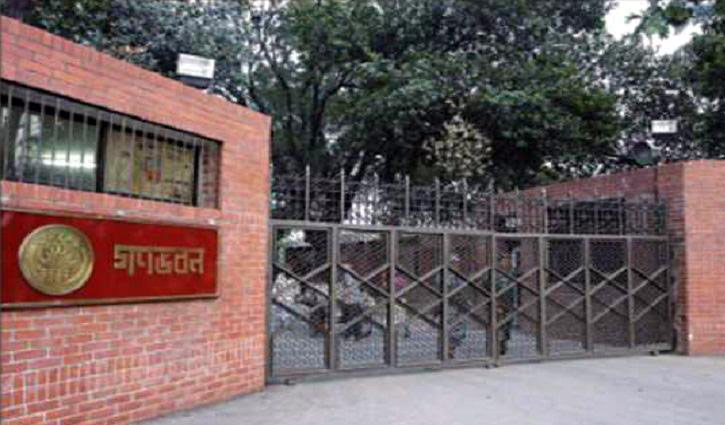 Top leaders of Jubo League, youth's wing of the ruling Awami League (AL), reached Gono Bhaban to take over all directions ahead of 7th congress of the outfit expected to be held November 23.
The leaders entered the Gono Bhaban before a while of 5:00pm on Sunday.
A Jubo League leader who accompanied the delegation confirmed the news.
The delegation led by Jubo League Secretary Harunur Rashid includes presidium member Sheikh Shamsul Abedin, Shaheed Serniabat, Mojibur Rahman Chowdhury, Md Faruk Hossain, Mahbubur Rahman Hiron, Abdus Sattar Masud, Md Ataur Rahman, Advocate Belal Hossain, Altab Hossain Bachchu, Md Sirajul Islam Mollah, Abul Bashar, Mohammad Ali Khokon, Prof ABM Amzad Hossain, Anwarul Islam, Eng Nikhil Guh, Shahjahan Bhuiyan Makhan, Advocate Motahar Hossain Saju, Dr Mokhlesuzzaman Hiru, Sheikh Atiar Rahman Dipu, joint secretary Mohiuddin Ahmed Mohi, Subroto Pal, Monjur Alam Shahin, Nasrin Jahan Chowdhury Shefali, organizing secretary S M Jahid, Amir Hossain Gazi, Mohammad Badiul Alam, Fazlul Haque Atik, Abu Ahmed Nasim Pavel, Asadul Haque, Imran Hossain Khan, Azhar Uddin.
Incumbent Chairman of the organization Omar Faruk Chowdhury and presidium member Nurunnabi Chowdhury Shaon are in the delegation. Restriction was imposed on entering Gono Bhaban for them.
Dhaka/Parvez/AKA

risingbd.com