Khaleda Zia gets release 
Published: 10:23, 25 March 2020 Update: 15:18, 26 July 2020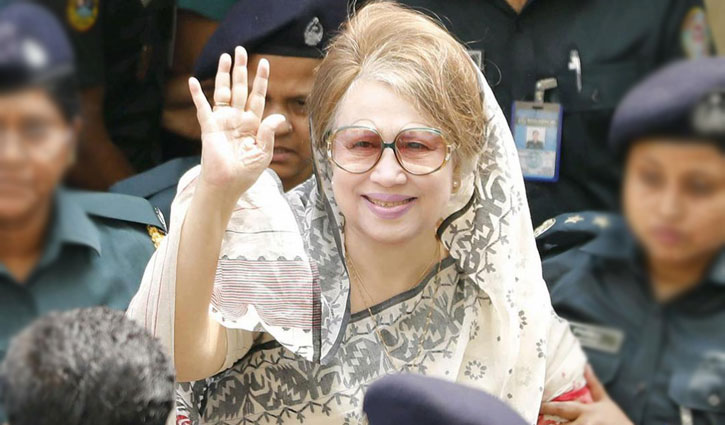 BNP Chairperson Khaleda Zia today (March 25) got release after serving more than two years in jail.
The BNP chief was released around 4:15 pm.
Earlier, documents regarding the postponement of Khaleda's sentence and bail reached Bangabandhu Sheikh Mujib Medical University (BSMMU) from the Home Affairs Ministry via Prime Minister's Office. Afterwards, she was released.
It has been learnt that Khaleda was taken to her Gulshan residence after release.
The government yesterday stayed the BNP chief's conviction for six months and decided to release her on humanitarian grounds considering her age.
However, she has been released on the conditions that she does not leave the country and she receives treatment at home, Law Minister Anisul Huq announced at a press briefing held at his Gulshan office in Dhaka on Tuesday (March 24).
The announcement came at a time when the country is going through a crisis triggered by coronavirus (COVID-19) pandemic.
The BNP chairperson has been in jail since she was convicted in the Zia Orphanage Trust corruption case on February 8, 2018. She was also convicted in the Zia Charitable Trust graft case on October 29, 2018.
However, an ailing Khaleda has been receiving treatment at Bangabandhu Sheikh Mujib Medical University (BSMMU) Hospital in the capital since April 1, 2019.
Earlier, Khaleda's younger brother Shamim Eskander had filed an application with the Home Ministry for her release with an executive order. The Law Ministry sent a recommendation to the Home Ministry in this regard.


Dhaka/Shaon/AI
risingbd.com