This BNP-alliance will not survive, says Quader
News Desk || risingbd.com
Published: 19:59, 27 January 2023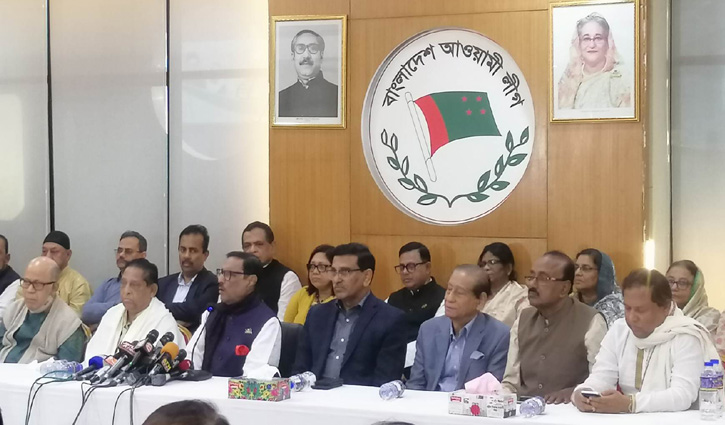 Obaidul Quader among other leaders at extended meeting at Awami League's central office
Awami League General Secretary Obaidul Quader believes that the 54-party alliance led by BNP will not last long as like that of the 11th National Assembly elections.
He also commented that BNP's movement 'runs on remote control' and the party's politics has become dependent on foreign sanctions.
Obaidul Quader said this while speaking as president at an extended meeting with the leaders of the party's Dhaka Metropolitan North-South branch and affiliated organizations at the Awami League's central office on Bangabandhu Avenue in the capital on Friday (January 27).
Going to the talk show, the BNP leaders talk like 'Men who lost their ways', Obaidul Quader said, "What will be done, what will be said, what program will be given- decide 54 parties, 54 posts and make 54 views. This group will be turned into smaller, not too late. Lefts and rights are on same flatform, far left and far right. This scenario will not exist. We saw that last time too. The 21-party alliance, finally the leader of the alliance Kamal Hossain is out. Now BNP runs on invisible remote control.
"The movement of the BNP alliance is under the invisible command of the remote control. And foreigners are looking forward to when the government will sanction them. Lobbying for a ban. No people, now bans and invisible gestures their politics. They have arrived in this state," he said.
Obaidul Quader said Awami League does not think BNP weak. All the anti-Awami League forces and several bad forces have formed the alliance here under the leadership of BNP. We will continue the programme keeping our goal in mind. We will implement the declared vision of 'Smart Bangladesh' in 2041.
Parvez/AKA