'Dream to win World Cup even being part of national team'
Published: 13:09, 7 July 2020 Update: 15:18, 26 July 2020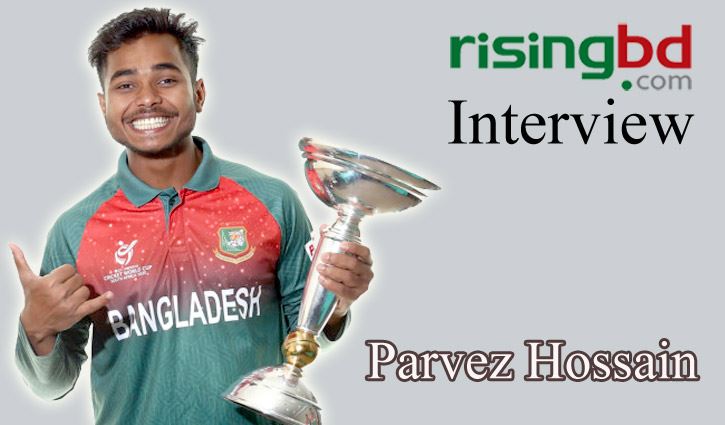 Parvez Hossain Emon, best known for his key role in winning ICC U19 world cup 2020, conveys strong morale in him which can be understood by a sentence 'Self-confidence helps me a lot to move ahead'. Such a mentality of Emon who loves to fight in unfavourable situation sets him apart from others.
Emon, who was suffering from a hamstring, was forced to go outside the field due to his injury during the final match against India in Potchefstroom city of South Africa. But he returned to field with bat at hand once more when he witnessed that team is in dire straits. He along with captain Akbar Ali featured in a 26-run partnership, bringing his grand total to 47 runs which contributed a lot to win the final. Emon's role in winning the world cup has remained an example, adding a landmark moment in Bangladesh cricket history.
Emon who hailed from Chattogram shared many things including his cricket career, world cup tour, how he spends time amid coronavirus pandemic and dreams envisioned being a member of the national team in an interview with Kamrul Islam Emon, a reporter of the country's leading and popular online news portal risingbd.com.
Risingbd: How are you?
Parvez: Alhamdulillah good.
Risingbd: Where are you staying now during this coronavirus pandemic?
Parvez: I am passing time with my family members in Chattogram as I have nothing to do for the time being.
Risingbd: Are you utilizing your time by doing anything for cricket?
Parvez: Basically, I am working to retain my fitness at this moment. Spending my time by working out and running. I have a treadmill in my house where I can maintain my running. Besides, our fitness trainer Richard Stonier whom we generally call by 'Pagla' is regularly providing me with instruction through making video calls. Just following his instruction. But getting no opportunity to practice with ball and bat at this moment.
Risingbd: Now, let's talk about the World Cup. Your flying start with unbeaten fifty against Zimbabwe. Afterwards, it seems you got lost. Eventually, you were named in ICC U19 world cup 2020 tournament. Did you feel any pressure on you during the entire tour?
Parvez: No, I had no pressure on me. I kept playing what I used to play in normal time.
Risingbd: You hit the second highest score for Bangladesh in the World Cup. You had a fifty. What you will say about the innings of that final match?
Parvez: That innings of the final match in the World Cup was really something special to me.
Risingbd: You left the field after falling into an injury in that match. But you returned to field again with bat at hand when the team was going through a tough time (102/6). What was actually working in you in that time?
Parvez: Despite facing injury problem, I kept myself normal at that moment. One thing that was circling over my head at that moment is I will try my level best to pull out the team from the collapse it was going through. Another thing that was in my head during that moment is to give support to Akbar bhai.
Risingbd: You left the field after scoring 47 runs. You could see the end of game if you were with bat at hand for more some time. Do you regret for that?
Parvez: Truly speaking, I feel regretted when I was returning to pavilion after being out. It was natural to feel penance for failure to stick to bat to the last in the podium like the final match. But that regret did not last when we became champion.
Risingbd: What will you do if you face the same situation in future?
Parvez: Actually, I have been trying to practice for that from the beginning. After the World Cup, I am not getting any chance to do something for that due to coronavirus pandemic. But, I would like to improve myself in this area.
Risingbd: Can you share the initial stage when you start playing cricket?
Parvez: Firstly, I start playing cricket in my locality. I used to play tape tennis cricket in the locality. Someday, one of my friends kept me telling, 'Look, you should start practicing with cricket ball.' Then, I start practicing with cricket ball. In 2013, I got admitted to BKSP (Bangladesh Krira Shikkha Protishtan) which I think is the start of playing cricket.
Risingbd: Specially, whose contributions were the most important during the entire journey?
Parvez: Actually, I had a small circle. That's why I could hardly get suggestions from others. But my family has given me much support. And I should mention a coach named Asadul Haque who inspired me much. His inspiration helped me much to build up my career.
Risingbd: First love for cricket grew in you by seeing which cricketer?
Parvez: Tamim Iqbal Khan bhai. He is my idol.
Risingbd: Did you start playing in opening seeing Tamim?
Parvez: Actually, I used to play in middle order. After I was named in ICC U19 world cup 2020, our coach someday asked me to play in opening. Since then, I have been playing in opening.
Risingbd: What is your weakness and strength in batting in view of you?
Parvez: I never thought that I would do batting analysis this way. But I can say about my caliber that I would like to try my best to execute what capacity I have. Still, I have weakness in some shots and I am trying to overcome that weakness. But nothing is being possible to do due to coronavirus.
Another thing is that I am very much confident. I did not think of weakness when I remain in field. You can say self-confidence help me a lot to move ahead.
Risingbd: You will win the World Cup even being part of the national team in view of Bangladesh's ace all-rounder Shakib Al Hasan. What do you think about winning the World Cup being part of the national team?
Parvez: Of course. There is no bar to dream. I love to dream. I certainly dream of the World Cup. I dream we will win the World Cup someday being part of the national team. I dream, if we play in the national team, we will become champion with national team jersey.
Risingbd: Can you share the craziness that your fans showed when you returned home after winning the World Cup?
Parvez: Truly speaking, I haven't become such a big star yet. But I had to meet the demands of my fans some days after I came back home playing World Cup.
Risingbd: How much are your family members proud of you?
Parvez: My family members are very much proud of me. They suffered much trouble. Now, they are getting returns. Insha Allah, they will get more returns in future.
Dhaka/Kamrul/AI
risingbd.com