Nameer plays cricket following his father's footsteps
Published: 09:21, 17 July 2020 Update: 15:18, 26 July 2020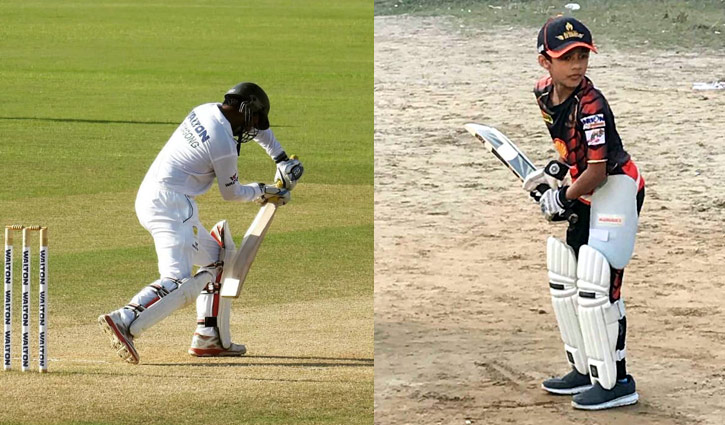 Nameer Iqbal, son of Nafees Iqbal, is growing up as a promising cricketer as he has already learnt how to hit classic shots like cover drive, hook, pull, cut, sweep etc. The 11-year-old talented cricketer is following the footsteps of his father and started nourishing a dream to play like his father and uncle Tamim Iqbal.
Country's leading and popular online news portal risingbd.com has arranged a new episode titled 'Like Father Like Son'. In its first episode today, there will be a story about Nafees Iqbal Khan and Nameer Iqbal Khan.
Nameer Iqbal Khan is the most junior cricketer of famous 'Iqbal Family' of Chattogram. His father Mohammad Nafees Iqbal Khan, better known as Nafees Iqbal, is the former Bangladesh cricketer and elder brother of ODI captain Tamim Iqbal. Nafees Iqbal, a right-handed opening batsman, made his debut for Bangladesh in 2003 but has been out of the national reckoning since 2006. The 34-year-old played 11 Tests and 16 ODIs for Bangladesh, scoring 518 and 309 runs respectively.
Creating a strong enthusiasm of Nameer to cricket is not a surprising matter. Rather, his father Nafees said with excitement, 'It would be a surprising matter if he (Nameer) expressed his zeal to other things, not making any passion to cricket.' Reminding of their family tradition, Nafees said, 'Almost all male members of our family including my father and uncles used to play cricket. All of them were involved in cricket. In a word, we have a cricket playing environment. I have played in national level. Nameer's uncle Tamim Iqbal is still playing. That's why, he is being highly inspired in playing cricket.'
Although our family is well connected to cricket for long, I never put any pressure on Nameer that he must play cricket. He has chosen his career of his own accord. For this, I will never put any hurdle on him. I will give him full support if he shows his eagerness to do business or job instead of cricket. I am giving him support as he has strong enthusiasm to cricket.
Like his father, he is also a right-handed batsman. He has already learnt how to hit classic shots like cover drive, hook, pull, cut, sweep etc. He is lucky enough to get his experienced father as batting coach. Only advice of Nafees to his son is that: 'Nameer is now 11 years old. I want he enjoy playing cricket.'
But as a coach, advice of Nafees is different. According to him, 'Certainly, cricket is a mental game. Now, retaining fitness and skill has been essential to play good cricket. If you are mentally strong and you lack skill required for cricket, you cannot go far way. For this, everything needs a combination such will power, mental strength, skill and fitness.'
Dhaka/Yeasin/AI
risingbd.com