Mahdi on way to fulfill father's dream
Published: 10:52, 20 July 2020 Update: 15:18, 26 July 2020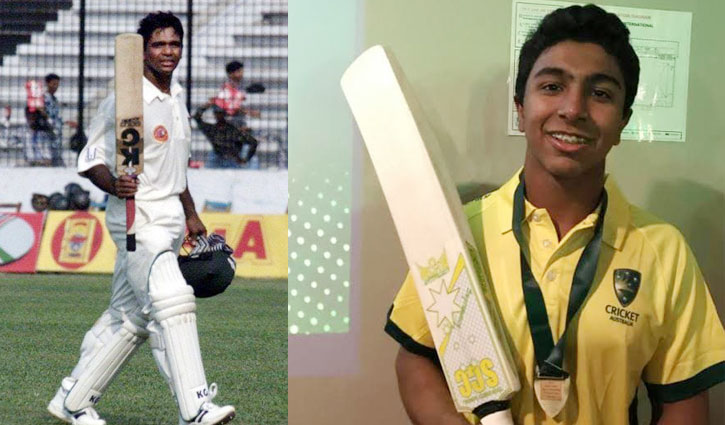 Fathers are a source of immense strength, courage and inspiration in a word. They are to perform a lot of responsibilities. Fathers are the important pillar of a family and children need them while they grow up. Father is like a big window that opens up the entire world in front of the children. Children start getting familiar with the entire world through the eyes of their father. For the children, their father can play a role as the best guide to teach them about what is in this world. Fathers not only carry their own dream but also help fulfill each dream of his family members. That is why role of a father is undoubtedly very important in growth and development of children.
But what is the father's dream? Yes, fathers have some dreams although their dreams often remain unmet. Fathers feel very proud when children can fulfill the dreams of their father. Former captain of Bangladesh national cricket team Aminul Islam Bulbul is set to be included to a club of proud fathers. His youngest son Mahdi Islam is following the footsteps of his father. Like his father, Mahdi is nourishing a dream to wave the flag of the country with bat and ball at his hands.
Country's leading and popular online news portal risingbd.com has arranged a new episode titled 'Like Father Like Son'. In its second episode today, there will be a story about Aminul Islam Bulbul and Mahdi Islam.
Aminul Islam Bulbul, born on February 2, 1968, was a former Bangladesh batsman. He captained his national side in their first ever World Cup appearance in 1999. He was one of Bangladesh's better players during the 1990s and played in their very first Test scoring an epic century. His international career spanned out over 13 years and he retired in 2002.
Bulbul, who played in 13 Tests and 39 One Day Internationals from 1988 to 2002, scored the first hundred for the Bangladesh cricket team when Bangladesh played their first Test against India thus becoming only the third cricketer after Charles Bannerman and Dave Houghton to score centuries on their own and their country's test debut. He was one of Bangladesh's most celebrated cricketers in the pre-Test-status era.
Bulbul also represented International Cricket Council (ICC) Associates Young Cricketers' squad in the first-ever Youth World Cup held in Australia where he took six wickets with his off spin. The same year he made his ODI debut for the national cricket team at Chattogram in the Asia Cup (1988). A year later, he scored a century against Malaysia in the U-19 Asian cup. In 1995, he scored a century against the visiting England A side in a three-day match at Dhaka.
Bulbul, who is a member of Developing program of ACC, is now working as the manager of International Cricket Council (ICC) in Australia. He currently lives in Australia where his son Mahdi is building up cricket career. Like his father, Mahdi is also a right arm batsman. Mahdi has been selected to play for Australia Under-15 national cricket team. He is a regular member of Australia state team Victoria. In the last Australia Under-15 indoor championship, Victoria clinched the trophy defeating Capital Territory. He is also playing in Dandenong Cricket Club.
Expressing great pleasure on his son's achievement, Bulbul said, "It is a great pleasure to know my son is playing for Australia Under-15 national team. Someday he might play for Bangladesh if opportunity comes. I've been witnessing Mahdi's love for cricket is greater than me. He reminds me of my teenage. All that I can pray and hope is his ultimate success."
"It would also be a great pleasure to me if my son can get an opportunity to play for Bangladesh national team. At this moment, he is learning how to play, I also want he learn more. Certainly, I will make an arrangement so that he can participate in Bangladesh Under-19 team. Then, I will think of his inclusion to Bangladesh cricket national team. I am putting emphasis on his learning of game at this moment." Bulbul said.
Mahdi is continuing his practice on regular basis in the club where Australian pacers Peter Matthew Siddle and James Pattinson practice. Highlighting the cricket facilities available there, Bulbul said, "There is a turf containing 17 nets there. There are four to five synthetic wickets there. There are two big fields and small-size stadiums there. Altogether, there are excellent facilities that can help one grow up as a cricketer.
Mahdi visited Bangladesh with his father in 2018 and went to Sher-e-Bangla National Stadium in Mirpur on the occasion of the traditional Victory Day exhibition cricket. On that day, introducing his father Aminul Islam as his batting idol, Mahdi said, "It seems very good to me to watch my father's game. I follow my father while playing cricket. It is father who is my idol as well as my coach."
Like father, Mahdi also desires to represent red-green flag of Bangladesh and says, 'My birth is in Bangladesh. I am a Bangladeshi. Like father, I also dream to play for Bangladesh. I will be lucky if I can go ahead following the footprints of my father.'
'Getting prepared for the big podium' is the only slogan of the both.
** Nameer plays cricket following his father's footsteps
Dhaka/Yeasin/AI
risingbd.com