Sandeep Lamichhane—the 'Gully Boy'
News Desk || risingbd.com
Published: 15:30, 9 August 2020 Update: 15:37, 9 August 2020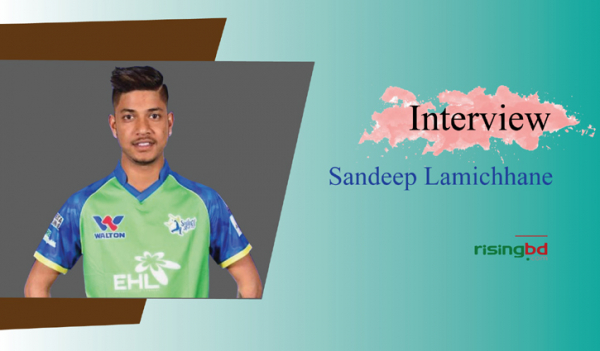 Sandeep Lamichhane is a Nepalese cricketer who plays for the Nepalese national team. A right-arm leg spin bowler, Lamichhane has played for Twenty20 franchise sides across the world, including the Delhi Capitals in the Indian Premier League (IPL), the Melbourne Stars in the Big Bash League (BBL), and the Lahore Qalandars in the Pakistan Super League (PSL).
He made his Twenty20 International (T20I) debut against the West Indies, where he represented a World XI side. He became the first cricketer to make a T20 international debut representing a combined team. He was one of the eleven cricketers to play in Nepal's first One Day International (ODI) match, against the Netherlands, in August 2018.
Lamichhane is currently in Trinidad to play in Caribbean Premier League (CPL). He reached his destination after travelling four countries. But he has to remain in 14-day isolation before taking to the field. At this leisure period, he shared many untold stories with Yeasin Hasan, sports correspondent of country's leading and popular online news portal risingbd.com, over phone. First episode is here for readers today.
Risingbd: You are one of the most in-demand spinners in the T20 franchise circuit. What makes you so special and how do you cope up in different conditions?
Sandeep Lamichhane: I think when you play cricket or any other sports, if you have the right mind set, if you think positive and if you perform on the field, everybody observes that. Right mind set, right vive and right attitude help someone to become a good player. A player is not only a great leader but also can perform better than any other player. That's what I feel that people observe my attitude, my positive attitude towards cricket. That makes me special or different from others. Being a leg spinner, it's not an easy task. But the way I came it's great thing for me.
Risingbd: How hard is it to match you in just four overs of bowling?
Sandeep Lamichhane: (Laughing) It's a condition. If you play a 50-over game, then you get 10 overs for you. But in T-20, it's just 24 balls. So the margin of error should be minimal in this format. You can't make mistakes. If you do mistakes, then it's hard to overcome every time. That's why you have to be sharp and you had to be one step ahead of the batsman. By this you can give your 100 percent again and again. By this you can put your efforts every time. So four over stay focused, that's my motto I think.
Risingbd: Has IPL given a breakthrough in your career?
Sandeep Lamichhane: Moreover, yes. In the first season I got three games. It was a great achievement for me. You should give credit to the IPL as well. They gave me a great, great, great opportunity.
Risingbd: What makes you want to become a leg spinner?
Sandeep Lamichhane: When I used to play with my friends in a small area on street or any other place, I found they find it difficult to play leg spin. Normally I used to bowl off spin and straighter as well. After seeing their difficulties, I made up my mind, why not I should continue leg spin. The Journey started there and rest is in front of you. That was only the plan and it motivates me in higher stages as well.
Risingbd: What is your place of strength in bowling?
Sandeep Lamichhane: See, if my captain asked to bowl anytime I can do it with a smile whether in powerplay, in death over or in middle over. My strength is my attitude. The positive attitude makes me compete...with myself not with others...each day that makes me more special and powerful. If you talk about my bowling side, I believe googly, the wrong one is my weapon. In the last few years I have been good at the wrong one. So I think a positive attitude and wrong one is the best strength for me.
Risingbd: Let assume you haven't bowled a good bowling spell and you are having a tough time on the wicket. You are not picking wickets and hitting boundaries and sixes…What you will think about bad times and how do you recover it?
Sandeep Lamichhane: What I feel like, whatever happened it's over. I can't get that back. Just finding the positive vibe again. Even if I hit three sixes in a row and if you can get that player out in every next ball or over that is a good thing. You have to look at that situation as well. If you get that player out and your team wins that's important. Team wins are always important. As a member of the team you had to laugh together, cry together, walk together...That's it, team results are always preferred.
Risingbd: Where do you think you need to improve in bowling to become the best leg spinner in current times?
Sandeep Lamichhane: Look I have got little bit of idea how to bowl in different conditions with variations. Now I have to be more predictable in the field and I have to read the batsman. Look it's a process. You have to be sharp to go in the top. You have to do things like opposition can feel he might be threat and we have to play careful. That kind of glamour that I always want to get inside myself.
Risingbd: You haven only played a season in BPL? Eager to participate here?
Sandeep Lamichhane: I played for Sylhet Sixers two years ago. If I get an opportunity and if my board gave me permission, I will play any franchise league.
Dhaka/Yeasin/AI