Messi appreciates fan support from Bangladesh
Desk Report || risingbd.com
Published: 18:48, 3 February 2023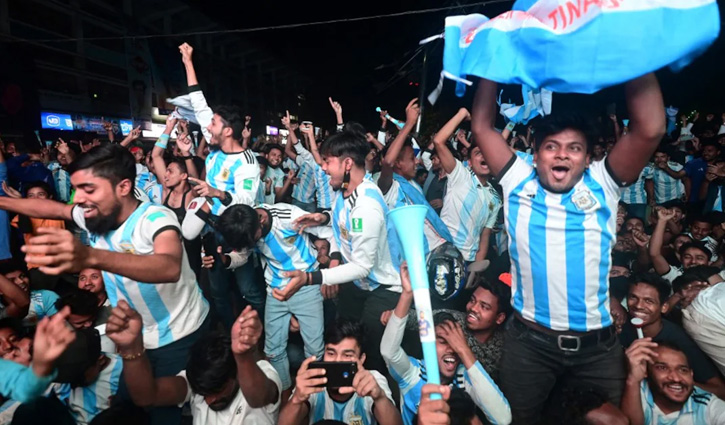 Messi knows about the support of Bangladesh, he has also seen the photos. Geographically, the distance between Argentina and Bangladesh is more than 17 thousand kilometers. But after the World Cup in Qatar, the distance does not seem so great.
During the World Cup, Bangladesh's craze for the Argentina team caught the attention of Argentina and the whole world. Argentine coach Lionel Scaloni also thanked the people of Bangladesh for such support during the World Cup. The Twitter handle of the Argentina football team also posted about Bangladesh, reports pronewtimes.com.
Argentina's captain Lionel Messi is the main reason behind Bangladesh's support for Argentina in the World Cup. The little magician who is so crazy all over Bangladesh, this time Messi has spoken about Bangladesh's support in the World Cup in Qatar.
Messi gave an interview with Argentina's Ole newspaper about winning the World Cup. In that long interview, the topic of Bangladesh came up, 'Yes, I saw (Bangladesh's support). Number 10 jersey everywhere, Sophie Martinez (Argentine journalist) showed me before the World Cup final. Seeing Argentina's number 10 jersey like this in different parts of the world is great.
In the interview, Messi was saying that during the World Cup, the common people of Argentina had a lot of fun. They forget their troubles and think only about football at this time. After talking about the common people of Argentina, the topic of Bangladesh came up in the interview.
During the World Cup, Scaloni said about Bangladesh, 'I think, because of Diego (Maradona) first, then Messi, the fans of Argentine football have increased. I am proud to know that we have such support in Bangladesh. Not only in Bangladesh, but people from many other countries also support us.
The love of the people of Bangladesh towards the Argentine team has touched the Argentines. During the game of Argentina in the World Cup, the matter of thousands of people enjoying the game on big screens in different parts of Bangladesh including Dhaka, Chittagong and shouting in support of Messi and Di Maria spread in different media and social media Argentina from the beginning of the World Cup. Argentinians were so excited about the matter that they even flew the national flag of Bangladesh in Buenos Aires.
Agencies
Dhaka/Nasim