'Exploring colours gives birth to a spark inside of me'
Published: 05:33, 18 June 2020 Update: 15:18, 26 July 2020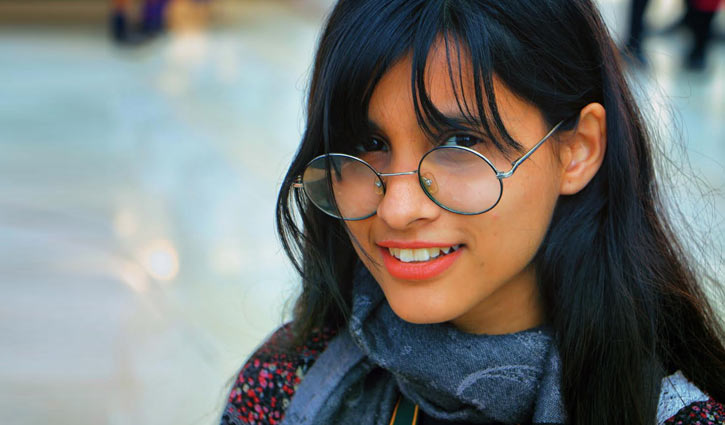 risingbd, country's leading and popular news portal, is publishing stories on persons who have shown success in various fields. As part of its efforts, Nabila Nowshin is writing stories under the banner 'In series #30days30souls'. Recently, she had a conversation with Mashraba Ahmed Chowdhury who is a student and a talented self-taught artist. In the conversation, Mashraba Ahmed Chowdhury talked about her childhood, education life, her artworks, achievements, future plans and more which are given below.
Hello, how are you?
Hello! Well we're going through a very tough time to cope with the pandemic but since I'm healthy and safe I could say Alhamdulillah doing fine.
What's your nickname?
I don't actually have any! But my dear ones call me Mash, Mashu, mushroom and whatever they can come up with that includes mash!
From where you completed your S.S.C and H.S.C exams?
I was a S.S.C candidate at Sher-E- Bangla Nagar Govt. Girls' High School and passed my exam from there and passed H.S.C from Adamjee Cantonment College.
Right now where and which subject are you studying in?
Currently, I'm doing BBA in marketing from Bangladesh University of Professionals.
Where you used to live during your childhood? Tell us one memorable story from your childhood!
I've lived in Dhaka all my life. Childhood was pretty wholesome. One memory I could recall when I was 4 or 5 years old. I was always proud of my name thinking it's very unique since I haven't met any person with the same name, so I used to think that I was the only Mashraba around.
But one day I found a wedding card where I discovered the bride's name was Mashraba! I was crying because I found a doppelganger of my name? Nope! I thought my parents were marrying me off and they didn't want me anymore! And thus I started sobbing and created a huge ruckus in the house!
Now that I think about this, I find it pretty hilarious and at the same time a sweet experience I had in my childhood. My siblings got to make fun of me but doesn't matter, at least I made people laugh back then!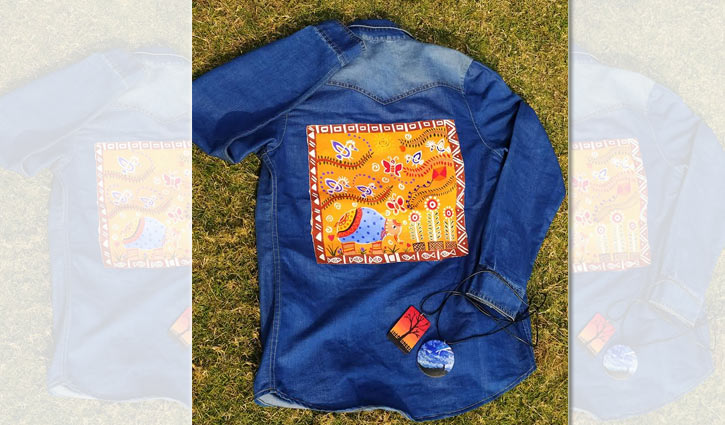 Do you want to give any advice to a 14-year old-yourself?
Actually No, I'm proud of my 14 year-old-self. I'm glad that I enjoyed my teenage life and made great memories.
Is there anything that you wanted to achieve from your childhood and now you have got it? If yes, then what is that and how do you achieve that?
I always thought about doing something that'll make people acknowledge me. And now my art, my work make them aware of the potential I hold, and that makes me more than happy and I find a new vigour in myself.
I never stopped painting. But my confidence gets boosted, even now. Thanks to all the awesome people around me.
In this moment we all know we have got some precious free time. So, what are you doing with this time? Are you doing something productive? Share it with us! We would love to know your activities.
Well, the pandemic and the whole process of quarantine are certainly taking a toll on us.
Staying home and doing nothing is a kind of boring but then again I tried my best to keep myself engaged in activities that could catch my attention.
Since I'm a huge fan of anime, I watched a lot of anime that I couldn't watch due to busy schedules before. I tried to complete client art works. I painted a lot in this free time. Also tried cooking a bit but of course, failed miserably. I certainly miss my family and friends. Also did a lot of assignments and term paper works, haha. I am planning to do some online courses now.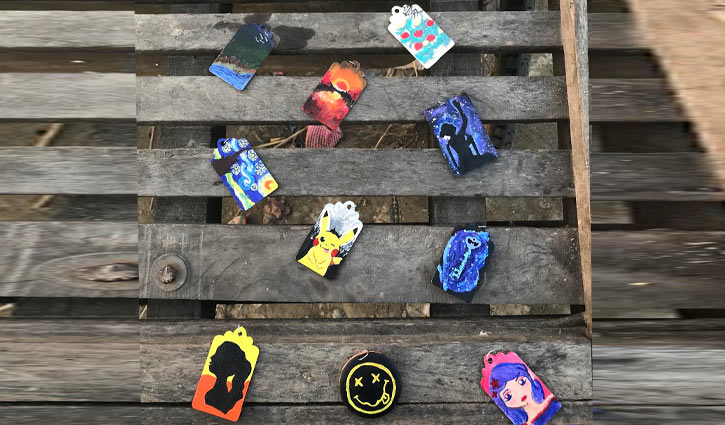 I have seen your artworks and I must say you are a very good artist. From where you learn to draw first and who was your inspiration?
Thank you so much! Really, I appreciate the lovely words. I started painting from a very young age. I'm a self-taught artist. I didn't technically take institutional courses to learn. I just used to pick up stuffs whenever I felt like and I used to paint them. My inspiration is nature. Just look around, isn't our surrounding very pretty? I love creating paintings of nature.
During school days I used to draw a lot of anime characters. But now I focus on a different art style that includes nature mostly. But I do try to practise and sharpen my old skills now and then.
I also follow several art pages on Instagram like Shen Comix, Lemon Sandwich, Chris Hallbeck, Safely endangered comics etc. And I have some great artist friends. They inspire me a lot too. Also, I have pages on both Facebook and Instagram and you all can visit my pages to check my works. Page- Glitz by mash. ( fb & IG both)
Do you have any plan to take your artworks in a big position in future?
Haven't really thought about it yet. But I'm very interested about the cottage industry. I'm thinking if I could link them both somehow. Also, stay with glitz if you wanna find out in the future whether I make it or not!
I also noticed that you like to do craftworks and cosplay too. Which one do you like to do the most in between these three? (Drawing, Craftwork, Cosplay)
I love crafting not only because of cosplaying but also I like creating things out of simple materials like nutshell, paper etc. Due to busy schedules I couldn't cosplay anything since last year but I did enjoy dressing up as my favourite characters a lot. But if I have to choose one I'd go for drawing cause that's the only thing I regularly keep myself updated with. Exploring colours gives birth to a spark of joy inside me. I'll stick to paining as long as I can. That's my escape route if I ever feel down or sad.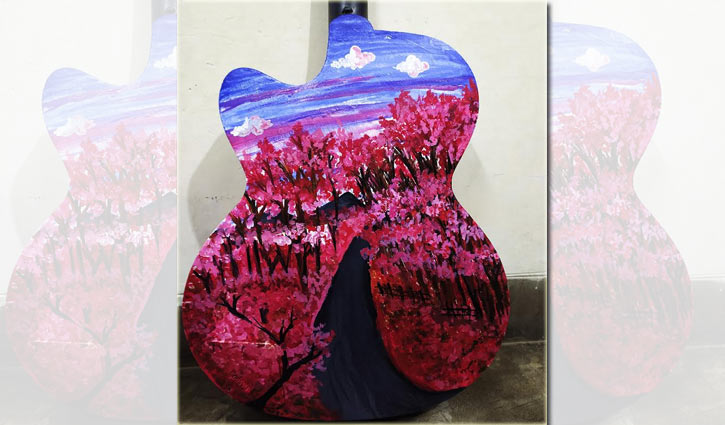 While doing drawing which thing you prioritise the most?
I'm more into colourful stuff so I prioritize making my work as bright as possible which you can actually identify if you see the pieces I made till date.
Besides those things, what do you like to do in your pastime?
During my pastime I listen to music. I watch anime a lot. And maybe I'll make some chips, get under the blanket and watch some movies in my pastime. If it wasn't for quarantine, I would've hung out with friends and have a good cup of tea since I'm a huge tea enthusiast.
Do you have any achievement? If yes, then what is it?
My achievement is I got the recognition I always wanted. When I opened glitz by mash (Hand painted wooden accessory shop) I was wondering if people would accept it or not. But I've got the best customers and supporters! Till now I have joined two events where I showcased my products and did earn a handsome amount as well as gathered experience and met different creative people.
As an anime lover, I won a lot of anime quiz competitions. Apart from all these, I got a bunch of prizes during school and college days for art, craft, storytelling etc.
I always tried to participate in different competitions, whether I win or not didn't matter, I always enjoyed participating. I made friends, gathered courage, increased myself confidence and got the strength to put myself in front of people. These are also great achievements, don't you think that too?
Yes absolutely, these are really great. So, after 10 years where you want to see yourself?
After 10 years I want to see myself on the desk of my own company. Let's see if I can make it there! And even if I can't, I want to see myself happy and satisfied with whatever path I choose.
In your journey who were always beside you and whom you want to say thanks the most?
I want to thank my family and my closest friends who never gave up on my crazy plans. Shifting from science to business was a big challenge but nobody ever told me to stop there. I'm grateful to the people who told me I'm talented and I can make it to the peak point that I've dreamed of. And thank you dad, for never telling me to stop dreaming.
So, In series #30days30souls you are one of those 30 people. How do feel to take part in this?
I'm honoured! To be honest I'm not sure how I made it to the list in the first place. Thank you for giving the honour and believing that I deserved to be here. I'm thrilled and excited at the same time! It gives a chill haha!
Thank you Nabila Nowshin, I wish you all the best for your future works and you're doing great with this series. Keep it up.
And also, there are 29 more people like you who are passionate about their work and doing great for the world. Do you want to give any message to them?
You all are breathtaking! I'm honoured that I'm in the same list as you guys and thank you all for being who you are, for believing in yourselves, for understanding people and for making the world a far better place. I wish you all good luck for your future and I honestly hope you all can bring more positive changes as well as achieve more in life. Stay happy and blessed.

Read more
*** 'I try to teach myself a new thing everyday'
*** 'Become a leader, not a boss'
*** 'I am in love with baking'
*** 'Work hard and consistency is the key'
*** 'I read about 50 books a year'

Dhaka/Mukul
risingbd.com