Indian restriction gives a boost to cattle rearing locally
Published: 04:23, 5 August 2019 Update: 15:18, 26 July 2020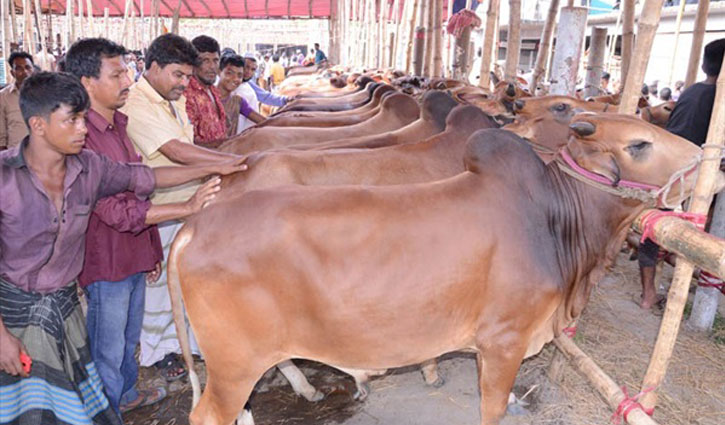 Manzurul Alam Mukul: It is said that necessity is the mother of invention. This proverb is reflected now in the dairy and cattle-fattening sector in Bangladesh.
Media report says, restriction on bringing cattle from India has become a boon for Bangladesh as many youths have set up cattle farms to boost local meat and milk production, ushering in new hopes for reducing dependence on cattle supply from outside. Compared to the past Bangladesh is now in a better position to grow more cattle locally and supply in the market ahead of the Eid-ul-Azha. Our youths have taken up cattle farming to steadily turn the crisis into an opportunity to create local self-reliance.
Eid-ul-Azha festival, which is also known as the 'Feast of Sacrifice' will be celebrated in the country on August 12 this year. Over the course of this holiday period, Muslims across the globe have been slaughtering their best halal animals as a symbolic homage to the willingness of the prophet Ibrahim (Abraham) to sacrifice his first son as an act of supplication to Allah.
According to some estimates, over 100 million animals are slaughtered across the Muslim world during Eid-ul-Azha. As tradition, a significant portion of the meat from these beasts is distributed among the poor and needy.
But in recent years, possible shortage of sacrificial animals during the Eid-ul Azha created panic among the Muslims in our country as the Indian government restricted cattle trading in the border areas with Bangladesh.
Ministry of Fisheries and Livestock and Bangladesh Raw Hide Merchants Association and Tanners Association of Bangladesh sources say that over 1.5 crore of cattle are slaughtered every year in the country. Most of the cattle are slaughtered during the Eid ul- Azha.
There was no official record of cow smuggling from India to Bangladesh. But it is learnt that once the country had to depend on over 25 lakh cows from India every year. Of the total beef production in the country, once around 25 per cent was met from Indian imported cows.
In 2013-14, a total of 21 lakh cattle came to Bangladesh from India, says data from the National Board of Revenue (NBR).
The Indian government's step contributed to high price of beef in Bangladesh market and put the leather industry in a crisis as India was one of prime sources of cattle in our country. There was an economic pressure on both sides of the border. The $600 million-a- year trade flourished over the past four decades which was badly affected due the Indian government steps.
An officer of Bengal Meat, Bangladesh`s top beef exporter, says it had to cut international orders by 75 per cent due to Indian restriction but at present they have been able to overcome station as they are meeting their demands from local market.
Sources in the Bangladesh Tanners Association say about 30 tanneries suspended work due to lack of hides but at now they have no crisis.
According to Department of Livestock Services (DLS) officials, sacrificial animals for Eid-ul-Azha are in surplus due to commercial rearing at marginal level, specially to catch in on a short-time demand.
About one crore 10 lakh sacrificial animals are in demand for this year Eid-ul-Azha. Some 1,17,88,563 cattle are available for sacrifice against the total demand.
DLS sources said, a total of 45,82,000 cows and buffaloes, 72,00,000 sheep and goats and 6,563 other animals like camel and 'dumba' are available in the market.
As many as 1,15,88,923 cattle were available in 2018 while it was 1,15,57,000 in 2017, according to the data. Some one crore and five lakh were slaughtered during the last Eid-ul-Azha.
The present stock of domestic animals in the country is more than enough to meet the demand for sacrificial animals during the coming Eid-ul-Azha. But, officials opine that like the previous year, a large number of sacrificial animals will remain unsold this year too, Md Mahbubur Rahman, director (production) of DLS said.
Locally reared cattle will be sufficient to meet the demand of sacrificial, Dr Md Abdul Halim, chief veterinary officer at Central Veterinary Hospital (CVH) said.
Dr Halim mentioned that the local animal husbandry sector has marked a revolutionary boost in recent years following massive steps taken by the government and different development organisations.
Both in rural and urban areas, the poor and marginalised people including women have achieved tremendous success in the sector getting various assistances from the government and development partners. The feature has brightened the prospects of exporting beef.
Nazrul Islam, an owner of Joarder Dairy Farm in Jhenidah, said he has 22 bulls to sell. He wants to sell his cows at prices ranging between Tk 450,000 and Tk 500,000 ahead of Eid, he said.
The cost of rearing cattle has risen and it is the real problem right now, Islam said, adding that he fears an influx of imported cattle. He also raised voice against cattle import from India as the country has surplus animals. "The government should stop cattle import so that farmers like me don't incur heavy losses". It should take a tough stance on cattle smuggling, he said, adding that he incurred heavy loss last year as the demand for cattle was low.
Another small farmer Hira, owner of Meherpur Gorur Khamar in Meherpur district, said he has reared 32 cows to sell them at the market ahead of Eid.
The contribution of the livestock sub sector to GDP is about 2 per cent but it is also providing 15 per cent of total employment in the economy.
Approximately nine percent of total foreign currency is earned by exporting leather and leather products every year. Though the share of the livestock sub sector in GDP is small, it has immense contribution towards meeting the daily protein (animal protein) requirements.
But Bangladesh still continues to stay on the lower-end of the global protein consumption, especially meat and milk.
According to World Health Organization (WHO), the per capita annual demand for meat is around 80kg in the world, while per capita meat consumption in Bangladesh is only 7.3kg a year. Statistics from the WHO also shows the per capita annual meat consumption in Pakistan is 19kg, 50kg in China, over 100kg in Germany and United States and 70kg in Argentina.
Thought we have achieved a tremendous success in cattle rearing, we have still a lot of things to be done to increase cattle breeding if we want to improve protein consumption.
The significant aspect is that our youths have taken up cattle farming to steadily turn the crisis into an opportunity to create local self-reliance. Most of the new cattle farmers are young educated people who have taken up cattle farming as commercial activities without crowding the job market. They are serious and hard working. They have proved that they are capable to go ahead combating many odds.
They have already shown that if they get the minimum backing they can yield excellent result. Not only in cattle farming, in the field of fishery, horticulture, vegetable production, seasonal fruit plantation and such other small businesses our youths are doing so well that we should feel proud of them.
risingbd/Aug 5, 2019/Mukul
risingbd.com