Naogaon towel vendor becomes millionaire buying Walton fridge
Published: 14:09, 29 June 2020 Update: 15:18, 26 July 2020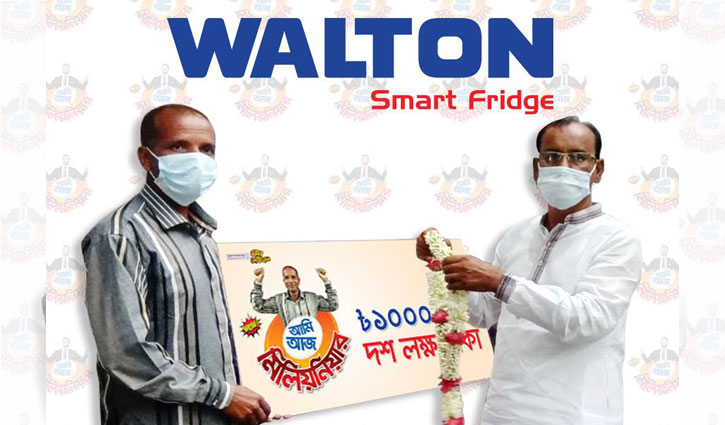 Solaiman Haque, a towel vendor from Naogaon, becomes millionaire after purchasing a Walton refrigerator.
M Mahfuzur Rahman : Solaiman Haque, a towel vendor from Naogaon's Niamatpur Upazila, hame become millionaire after he purchased a Walton refrigerator. Walton is providing the facilities to its customers under the ongoing 'Digital Campaign Season-7.' Solaiman intends to invest this money in expansion of his business.
On Sunday (June 28, 2020), a cheque of BDT 10 lakh was officially handed over to Solaiman Haque at Walton Plaza in the upazila city. Niamatpur Upazila Chairman Farid Ahmed, Upazila Awami Jubo League leader Murshed Alam Mithu, Walton's Naogaon Zone area manager Abdullah Al Mamun and Plaza Manager Raihan Kabir were present on the occasion.
Walton is conducting 'Digital Campaign' across the country to accelerate the initiative of building customer database for delivering online based swift and best after sales service. Under Season-7, a customers is likely to get Tk.1 million (10 lakh) through purchasing any model of fridge, washing machine or microwave oven from Walton plaza, distributor outlet and E-Plaza across the country. Besides, customers will get sure cash vouchers worth of maximum Tk 1 lakh. Customers will enjoy the benefits until Eid-ul-Azha. Wazed Ali, a tailor from Gazipur, has also become millionaire after purchasing Walton refrigerator before Solaiman.
Haque said, on June 21, 2020, he purchased a refrigerator worth of Tk.25,000 from the Plaza with their hard-earned money. He received a SMS in his mobile phone from Walton with the notification of getting Tk 10 lakh cash on registration of the fridge. Solaiman Haque, with his wife and college going son Sobuj Reza, hailed from Valaighati village, is living in hand-to-mouth. Family depends on only of his towel-selling earnings. Sometimes he and his son work in the paddy filed as well with his wife also earns money from poultry rearing.
Thanking Walton, he said, 'This is the first time, I've received a gift from a company. I intend to invest more money in my towel trading to explore this business with the money awarded from Walton.'
Walton has over 150 models of frost, non-frost refrigerators, freezers and beverage coolers in the local market with price range from Tk.10,990 to Tk.69,900. Walton refrigerators received several standard certifications at national and international level including BSTI's 'Five Star' energy rating, ISO, OHSAS, EMC, CB, ROHS, SASO, ESMA, ECHA, G-Mark, E-Mark etc. Walton made refrigerators are being exported to different countries.
Walton provides a one-year replacement facility for fridges along with 12-year guarantee on the compressor. There are 74 service centers across the country to provide fast and best after-sales service.


Dhaka/AKA
risingbd.com