Traffic woes of a city
Published: 05:27, 22 January 2017 Update: 15:18, 26 July 2020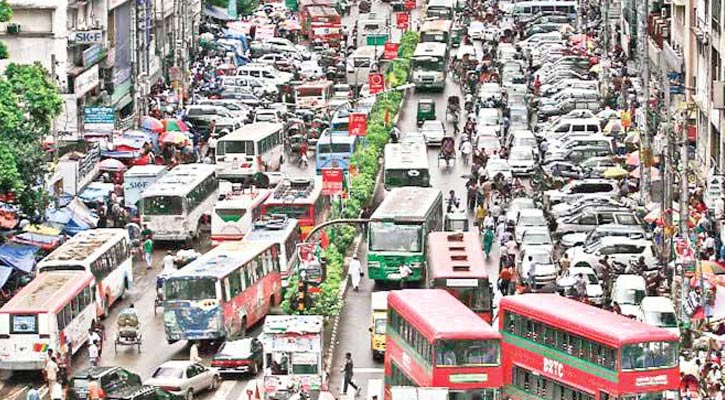 Nishat Tasnim Shuchi: If you want to travel from Uttara to Motijheel or Mirpur to Motijheel in Dhaka, it will generally take 30 to 45 minutes in consideration of the distance. However, in reality, you can't tell whether you can reach the above mentioned destination within that time or not as it would take three to four times more. This is a common picture of a city where nearly 17 million people live.
The scenario, however, might be different if there is any political or social rally or any other movement and it would take you two or three hours to cross a kilometer. This might seem an exaggeration to you but this is the reality you can't avoid.
What causes such traffic jam?
Unplanned city is a main reason for the unbearable traffic in Dhaka, the capital of Bangladesh. According to Road Transport and Bridges Minister Obaidul Quader, a modern city should contain 20 to 25 percent roads and streets of its total size. However, according to him, Dhaka contains only 7 to 8 percent roads and streets which is much less than the required amount.
On the other hand, the size of the city is 368 square kilometers where 17 million people live. The city cannot bear the load of the vast number of population. The number is increasing everyday as people surge to capital for various reasons. Among them, search for living, employment, education, treatment etc are common.
According to Bangladesh Road Transport Authority (BRTA), one million registered vehicles ply on streets in Dhaka, three times more than the capacity of roads. Among the vehicles, over 2 lakh are private cars which carry a very small number of passengers but occupy the major portion of the city streets.
Digging of roads and footpaths is another cause of traffic jam in Dhaka. Digging is done all over the year for water supply, sewage line, gas and electricity supply lines, telephone and internet providing lines. Besides, construction work for underground train and flyover is going on in different parts of the city which greatly hamper traffic movements.
Lack of sufficient parking space is another major cause. Most of the establishments do not have own parking space for which vehicles are parked on streets narrowing the space for moving cars. Besides, the drivers of public transports stop their vehicles in the middle of streets for picking up and dropping off passengers heightening the traffic jam.
Most of the streets do not have footpaths for which commuters walk on the verge of streets. Besides, jaywalking hampers traffic jam. Lack of over-bridges or underpasses and people's unwillingness to use the few we have also worsen traffic jam.
Moreover, unwillingness to obey traffic rules, driving through opposite direction, insufficient traffic police, footpath occupation by hawkers and carelessness of people also cause traffic jam.
The loss that traffic jam counts
Such kind of traffic jam costs huge and the loss of total time and production are numerous. According to a research of Board of Investment (BOI) Bangladesh in 2014, traffic jam in Dhaka costs approximately 12.56 billion US dollars which is 7 percent to the total GDP of the country.
This is a figure which could be counted through research. However, the loss of gross happiness and the mental stress people bear while being stuck in the middle of the streets for hours is really countless. Most of the time, people curse the government, its officials and engage in altercation with other people for the frustration of being stuck in traffic jam.

What to do to ease traffic jam?
Increasing the number of public transports is must in easing traffic jam. Side by side, experts suggest decreasing the number of private cars as they carry less people but occupy the major portion of city streets. If city commuters can have safe and hassle free journey in public transport, they will encourage traveling on public transport and will be discourage to buy private vehicles. The government has a plan to restrict the movements of private cars in city streets. The plan should be implement as early as possible. But prior to that, the facilities in public transport must be increased.
Traffic police should be strict and the violators of traffic rules should be punished. All establishments should have own parking space. Footpaths should be made hawkers free and jaywalking should be stopped. Creating awareness of commuters and the change of their attitude to obey rules will help easing traffic jam.
Decentralization is another way which can lessen the load of capital and ease the traffic jam. People generally throng to Dhaka for getting jobs, quality education and treatment. Creating job scopes, ensuring quality education and treatment along with other facilities in district cities and villages can decrease the load of Dhaka city.
Upgradation of transportation, supply of electric and internet services to rural area can encourage youths to go back to village so that they can earn doing outsourcing and other technology based jobs staying back in village.
Changing of outlook can play a vital role. There is a common notion that all 'blessings lie in city'. People surge to capital in search of fortune. They cling here though Dhaka has been ranked as the second most unlivable city in the world in 2014 and 15, according to the Global Liveability Ranking of Economist Intelligence Unit (EIU). Dhaka still belongs to the category of one of the worst cities to live in and ranked fourth last year.
After completing graduation or higher education, if anyone wants to go back to village to earn livelihood, he or she has to be a subject of social bullying by villagers. Most of the villagers consider staying back in village and doing agriculture, fish or poultry farming by graduates as their inability. For which many educated people don't want to go back to village. The changing of this outlook should come or we cannot enjoy the facilities of decentralization.
Hopefully the government and authorities are very serious to ease the traffic jam in capital. The government has taken some mega plans among which are building flyovers, underground train service, broadening streets and increasing the number and facilities of public transports are noteworthy. Besides, the two mayors of the city corporations take all-out initiatives to make the footpaths hawkers free.
Combined efforts from both public and private sectors can ease the traffic jam in capital. Our awareness can make the city a livable one. So it's time for us to be aware and assist the government to make Dhaka free of traffic jam.
About the writer: Nishat Tasnim Shuchi is a guest writer at risingbd.com.
risingbd/DHAKA/22 Jan 2017/ Nishat Tasnim Shuchi/Augustin Sujan
risingbd.com