Prime Bank announces half yearly financial results
News Desk || risingbd.com
Published: 18:00, 6 August 2020 Update: 18:02, 6 August 2020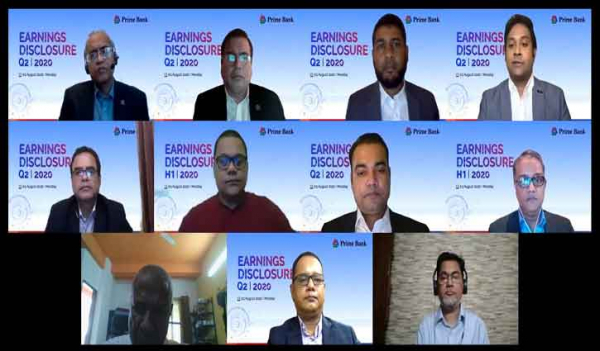 Prime Bank Limited has announced its half yearly (H1) financial results of 2020.
The bank has been able to maintain capital adequacy and liquidity position within regulatory threshold and well ahead of industry peers showing stability and robust financial strength, said a press release on Thursday (August 6).
The bank's strong levels of capital and liquidity continue to protect it in times of uncertainty. Its ongoing digital transformation efforts and significant investments in technology backbone over the last few of years have allowed the bank to provide seamless services to the customers during this difficult time.
The bank has played an active role in implementing the government's COVID-19 Stimulus Package emerging as one of the leading banks in loan disbursement under the business rescue initiative injecting much needed capital and helping businesses return to pre-pandemic capacity.
Backed by business continuity plan adopted beforehand and rigorous health safety measures, the bank withstood the onslaught of COVID-19 and continued uninterrupted services to the customers. The tech-savvy bank, which has recently won "Best Digital Bank in Bangladesh Award" from AsiaMoney, launched several new digital banking solutions including self-registration in Internet Banking Service – Altitude and formed MSME financing alliance with leading ICT trade bodies to provide collateral free loan, a pioneering initiative that has been widely appreciated in the business community.
The bank's proactive safeguard measures has earned the bank prestigious international recognition as of the best COVID-19 responders in Asia. The Euromoney's 'Excellence in Leadership in Asia 2020 Award' is a unique feat for Prime Bank as it is the only bank from South Asia to earn the title in 2020.
As part of accelerating digital transformation roadmap, the bank undertook strict vigilance measures to ensure cybersecurity and fraud prevention to keep fraudsters at bay, facilitating customers to avail banking without in-person persence at branch during this turbulent months.
Although the bank's revenue streams have been disrupted by COVID-19 induced new regulations on EMI payment and interest suspension, late fee waiver, loan classification, provisioning rules and interest rate capping, the bank intensified efforts on international remittance business, enhanced digital banking capabilities and applied cost efficiency practices.
As part of standing beside the humanity, the bank has joined forces leading NGOs, including the Bidyanondo, Jaago foundations and Mission Save Bangladsh to raise much needed funds for under-pressure communities.
During this difficult period of January-June 2020, the bank has earned net profit of Tk 61.88 crore on solo basis, which was Tk 99.27 crore in the corresponding period of last year. The bank has also reported operating profit of Tk 248.16 crore in H1 2020 on solo basis which was Tk 332.47 crore in the same period of last year.
Banks operating profit and net profit after tax in H1 2020 witnessed a drop down by 25% and 38% respectively compared to same period of 2019 mainly due to impact of COVID-19 pandemic, a host of COVID-19 regulatory waivers on EMI, interest and fees and interest rate capping.
The bank reported EPS of Tk 0.55 for the half year ended on June 30, 2020 on solo basis which was Tk 0.88 in the corresponding period of 2019. Its net asset value (NAV) per share on solo basis was Tk 24.21 as on 30 June 2020 which was Tk 22.75 in the same period a year ago. The bank's net operating cash flow per share (NOCFPS) on solo basis stood at Tk 0.75 on June 30, 2020 which was Tk 0.84 in the corresponding period of 2019.
The leading private commercial bank, listed with both Dhaka and Chattogram Stock Exchanges, organized its Earnings Disclosure event on August 3, 2020 which was broadcast live on the bank's Facebook Page. In view of the COVID-19 outbreak, the bank conducted the event through Zoom Webinar webcast to maintain social distancing.
The bank's Managing Director and CEO Rahel Ahmed and senior management officials presented the half yearly financial results of 2020 and answered questions from the local and foreign investment analysts, capital market experts, financial institution partners and journalists.
Commenting on the occasion, Managing Director and CEO Rahel Ahmed, said: "During this critical time, we are more focused on keeping our employees and customers safe, and customers served with essential financial services with safety and convenience to what matters most in their lives. We were one of first responders to chalk out fightback initiative as early as January 2020 when COVID-19 started unfolding and quickly adapted our operations to continue delivering critical services to meet the evolving needs of our customers living to the bank's long history of standing by the customers in challenging times."
"I would like to extend my sincere thanks to all of our employees for providing customers with the critical banking services they need. Thank you for your flexibility and adaptability and quickly adjusting to new work environments and workloads, continuing to put our customers first, and for supporting one another and our communities. I am really encouraged by the agility of our staff in adapting to changes and resilience of our valued customers that I believe will see us through the crisis," he continued.
The bank's DMD and CFO Mohammad Habibur Rahman Chowdhury; DMD and CRO Md. Touhidul Alam Khan; DMD and CBO Faisal Rahman; Head of Consumer Banking ANM Mahfuz; Head of MSME Banking Syed M. Omar Tayub; Head of TB, SFD and ID Shams Abdullah Muhaimin; Head of Treasury SK. Matiur Rahman, Chief Operating Officer Abdul Halim; Head of ICC Mohammad Jashim Uddin and Head of Brand and Communications Nazmul Karim Chowdhury joined the virtual event.
Dhaka/Zani Saha/Nasim