Vaccinated hamlet: The initiative of DU student Shakil Hosen
News Desk || risingbd.com
Published: 11:48, 30 August 2021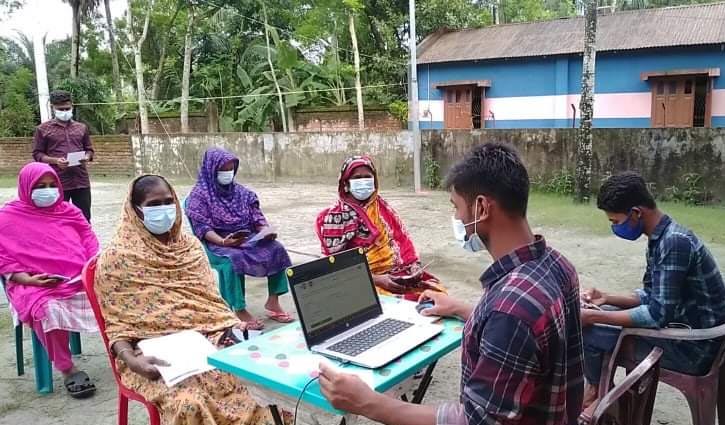 Satkhira, the southwest district of Bangladesh, bordering India, is now a Covid hotspot. Jordia Sheikhpara, one of the remotest villages of the district, is 10 miles away from the district headquarters. Many people in this village have been infected with Covid-19 in the second wave of the virus. Yet, the villagers are reluctant to take the vaccine. Thus making Shakil Hosen, a 19 years old Bangladeshi youth activist, entrepreneur, blogger and ponder.
The picture of the whole village has changed in the 45 days. More than three hundred people in the village (per government-announced conditions) have applied for the vaccine. Most are under the first dose of the vaccine, while others are waiting for the SMS of vaccination.
Shakil Hosen, the entrepreneur of the vaccinated hamlet, said, "Even though the vaccine was available, the village people were reluctant to receive the vaccine due to the fear of vaccine and registration complications. So, initially made the village youth understand the need for vaccine and were interested in taking the vaccine. But many of us couldn't be interested in getting the vaccine. So, then we yield to the religious representatives of the area'.
'Villagers listen to religious representatives. So we encourage people to take vaccination with the help of the mosque's Imams and get a positive response', said Shakil Hosen.
Young students of the village Arafat Hossain, Hasanur Rahman, Miyaraj Hossain, Shakibur Rahman, Mahbubul Haque, Azgar Ali, Taufiquzzaman, and Rohel Uddin, including others, also came forward in this initiative.
Those youths set up mobile registration booths at different village points to register for getting free vaccination and declared through the mosque's speaker. There are also people for house-to-house registration. This free registration campaign will run for four weeks while being supported by the youths to get the registrants to the vaccination center on time. The Jordia Sheikhpara, the village of Satkhira district, is probably the first village in Bangladesh where most people have already taken the vaccine.
Shakil Hosen, the dreamer of the vaccinated hamlet against Covid-19 in Bangladesh, was born and growing up in Satkhira, a district in southwestern Bangladesh. Shakil is the president of Satkhira Student Society. He established this platform in 2018 to protect the rights of students in southwest Bangladesh. He studied higher secondary at Satkhira Government College. Shakil Hosen stood the first position in Higher Secondary Certificate (HSC/INTERMEDIATE) examination under the Intermediate and Secondary Education Board, Jashore. Currently, he is doing his Bachelor in Political Science at the University of Dhaka and is involved with numerous youth platforms.
l
Dhaka/Muku