Mahera Zamindar Bari: A witness to the 1971 genocide
Rockshana Akter Popy || risingbd.com
Published: 13:33, 7 October 2021 Update: 13:42, 7 October 2021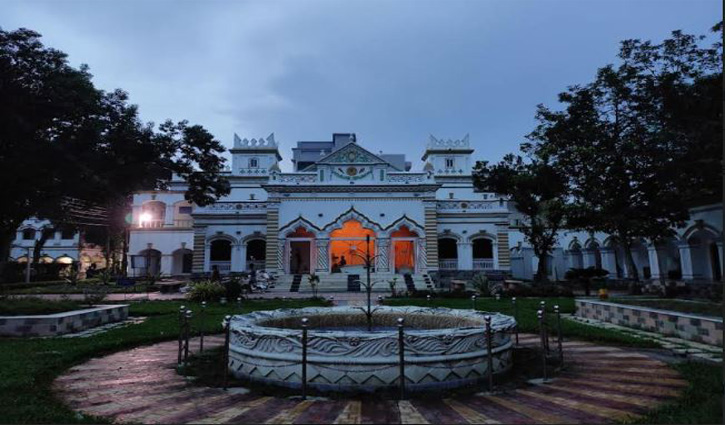 A palace where zamindars (landlords) lived is called Zamindar Bari. Tangail is a district where many zamindars lived and stayed for a long time. Each Zamindar had no shortage of resources so that all of the zamindars built luxurious palaces for their residence and these palaces were beautifully designed.
Several zamindar houses are situated in Tangail district as this is an ancestral district we all know. Most of these palatial houses are on the verge of destruction, some have been destroyed and some of the Zamindar houses are in poor condition.
Mahera Zamindar House is one of them that has been standing with all its glory. This house just looks like heaven. When someone visits this historical palace, no one would feel that this palace is more than 130 years old. The beauty of this Zamindar house increases day by day.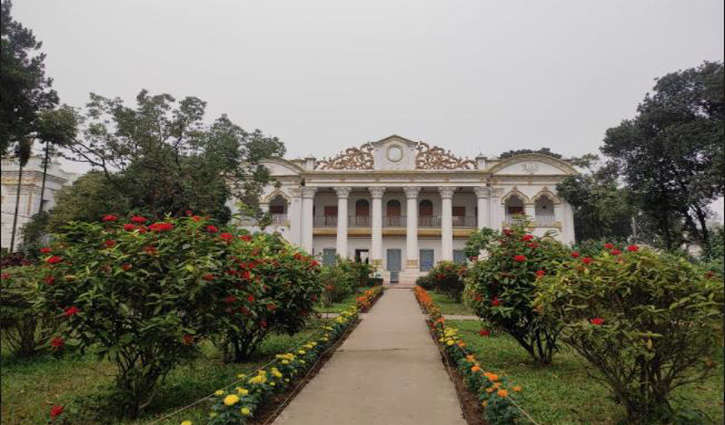 Mahera Zamindar House was built in the 1890s at Mirzapur Upazilla, Tangail district. Two brothers Kalicharan Saha and Ananda Shaha, traded salt and pulse in Calcutta. They made a lot of money in the business. They came here and bought the Zamindari of this area from the Zamindars of 24 pargana Korotia Zamindars. The Zamindars of Mahera were great philanthropists. They built a lot of Schools, Colleges and they did many charitable works. They built a beautiful palace on 8 acres of land and this palace is known as Mahera Zamindars bari. The beautiful Mahera Zamindar House was built according to the style of the Spanish city of Cordova having similarities of Romans, Mughal, and Indus Valley.
After partition, many members of this palace was migrated to India but some stayed here. During the time of the Liberation War of1971, Pakistan Army attacked Mahera Zamindar House. They killed five people, of which four people were villagers and one was the bride of Zamindar bari. Rest of the family left this palace after the killings.
In 1972, the then home minister Abdul Mannan abandoned the palace and set it up as a Police Training Centre School. Later in 1990, it was renamed a Police Training Centre (PTC).
There are four beautiful buildings of this palace- Kalicharan Lodge, Anondo Lodge, Chowdhury Lodge, and Maharaj Lodge. After entering the main gate the first thing visitors would notice is the big pond called Bishakha Sagar. The banks are nicely decorated. The palace is located on one side of this pond and on the other side there is situated Police Training Centre. The control of the entire Zamindar house is now under the Police Training Centre.
When anyone enters the main gate, they see a beautifully decorated one-story building and this building is an integral part of the Kalicharan building. This building is now used as a Museum.
In this museum there are many types of utensils are available that were used in the time of zamindari. Here also nice things have been seen that is sculptures of police stuff from the period of Mughal to present time. This is an amazing thing.
Kalicharan building was built during the end time of zamindari and this is so much different from other buildings. The structure of this building just looks like the English letter U and this was built according to the modeled of English architecture. The material which was used for building this infrastructure was such type that's why many colors reflected from this building in the late afternoon.
After this building there we can see a nice two-story building and the name of the building is Chowdhury Lodge. This beautiful pink building is built in Roman architectural style. The front pair of this building is truly amazing with 6 nice pillars. This building is eye-catching. The roof of the building is corrugated that gives a nice structure. The craftsmanship of each building is truly dazzling. Behind this building, there is a one-story building, where guests can stay if they want.
The most attractive building of this zamindar house is the Ananda lodge. This building is situated just beside the Chowdhury Lodge. This building was built in a mixture of unique architectural design which was the combination of west and east. The balcony of this Lodge is different and this thing gives a nice and unique looking.
There are almost 12 rooms in this building. In front of this lodge, there are 8 pillars and these pillars are nicely decorated. The combination of these pillars, beautifully decorated balcony, roof railings, flower garlands on the window cornish and the color of white and blue color shades gives the building a very nice structure.
Seriously when we saw this not for a single time we felt that the age of this building was so much. At present time, the ground floor of this building is used as a Police Training Centre. At the backside of this building, there is a mini zoo. In this zoo, there are peacocks, deer, wild roosters, and some foreign and indigenous birds.
In the west part of zamindar house, there is Maharaj Lodge. It is the largest building of this palace. There are 12 rooms in this building. Zamindar Gajendra Kumar was lived here. Behind this building, there is a tennis court.
Apart from this building, there have some other buildings. At the back of the zamindar house, there are also Ranimahal, Naiyeb Bhaban, and so on.
Behind the buildings, there are two ponds-pasta pond and Rani pond. In front of the Para pond, there is a park. There are swings, slippers, trains, and many more. There is a large fish aquarium on the north side of the pond. In the middle of the Para pond, there is a small island.
Besides these ponds, there are so many seating places, round tables with royal chairs. Visitors take a rest here, eat fuska, or so on. There are lots of green trees are here. This gives a natural taste with ancestral feelings. Since there is a Police Training Centre in front of this palace so that there is no harassment of scoundrels. The environment of the whole palace is totally neat and clean and also safe for visitors.
The communication system is also good to reach there. If anyone wants to go there, they just get off Nataipara Bus-stand near Mirzapur. After that, they easily go to the Mahera Zamindar house by a CNG or auto rickshaw.
There is no doubt that visitors will have a great experience. This is our history, our pride, so it is our responsibility to highlight this and inform everyone about this beautiful tourist spot. This Zamindar house always reminds us that if we properly take care of our historical sites then we would be able to convert them into beautiful tourist spots.
Writer: Owner of EpPe shopping
Tangail/Cynthia/Mahfuz